Brazil 'disappointed' with Paraguay Senate attitude towards Venezuela and Mercosur
Thursday, December 15th 2011 - 15:42 UTC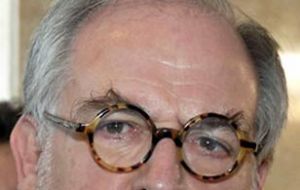 Brazil's International Affairs presidential advisor Marco Aurelio García admitted there is "disappointment" in Mercosur with the delay from the Paraguayan congress in approving the incorporation of Venezuela.
The incorporation of Venezuela as a Mercosur full member has been approved by the legislatives from Argentina, Brazil and Uruguay and is only pending the Paraguayan Senate vote which is blocked by the opposition and several groups from the ruling coalition.
"This has generated a degree of disappointment in Mercosur because even the government of Paraguay approves Venezuela's incorporation", said the top Brazilian official who held a similar job under former president Lula da Silva.
Garcia said Brazil still does not have the precise information regarding the proposal from Uruguayan president Jose Mujica who has considered the possibility of 'some legal changes' so as to incorporate Venezuela without the need of the Paraguayan Senate ratification.
He did not advance if Brazil would support such an alternative that could be considered during the coming presidential summit in Montevideo next December 20, but said that the issue must be solved as soon as possible respecting "the Paraguayan congress sovereignty".
The incorporation charter for Venezuela was approved by the governments of Argentina, Brazil and Uruguay in July 2006, and the legislatives from Argentina and Uruguay were the first to ratify the document. In Brazil it took two years for the approval given what was considered the "authoritarian" attitude of President Hugo Chavez and the 'lack of democratic guarantees" from the Bolivarian revolution.
The Brazilian disappointment with the Paraguayan Senate is not limited to the Mercosur issue because the nomination of the ambassador in Brasilia has remained blocked "for two years", said García.