"We are in a war of attrition…and we can't let Argentina win", says Falklands MLA
Friday, December 16th 2011 - 20:21 UTC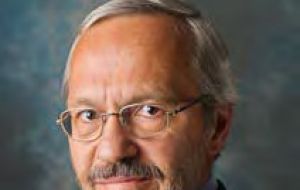 The Falkland Islands are effectively "under a sea-blockade from Argentina" and after years of quiet diplomacy behind the scenes "we are now in a war of attrition and we need to take the war to the enemy" according to Dr Barry Elsby who on Thursday was elected to fill the vacant seat at the Falkland Islands eight member Legislative Assembly.
"We are already under an effective sea-blockade but with the 30th anniversary of the (1982 Falklands) conflict next year, I think things will get worse. We must actively prepare for this in order to protect our tourist and oil industries and our own freedom to travel. We can't let Argentina win" Dr. Elsby was quoted in his election manifesto.
Dr. Elsby and his family arrived to the Falklands on a two-year contract in 1990 and never left. The new MLA has acted as the Chief Medical Officer on many occasions over the past 21 years and was elected by parents to the Board of Education for almost 12 years and is also a member of the Media Trust.
"I decided to stand for election as I feel we are entering one of the most difficult, dangerous but also exciting time since the conflict of 1982", said Dr. Elsby who on Thursday was elected by an overwhelming 462 out of 702 votes with his runner up capturing 95 votes.
MLA Elsby said he has always supported the Falklands attendance at the UN Committee of 24 and is pleased to see the recent visit by MLA to the Caribbean "to try and win those countries to our point of view".
However, "I feel we must go further still. We need to employ a world-class publicity firm to promote the Falkland Islands on the world stage and counter Argentine propaganda. This will, of course, cost money but what price freedom?"
Dr. Elsby in his manifesto also referred to the current round of oil exploration, its future implications, challenges and shortcomings, warning on a possible gap between exploration and production times, if oil in sufficient commercial volumes is found.
"There will then be a gap whilst we wait to hear about other drilling plans or possible exploitation of the Sea Lion find" which will have an impact on the Falklands finances and jobs of Islanders in oil industry support services, and "we need to plan for that".
MLA Elsby said that a large part of this year's budget surplus has come from the oil industry in the form of taxes but this in only the tip of what might be a very big iceberg if the Rockhopper finds become a commercial success.
"This one field (Sea Lion) alone may yield billions of pounds worth of oil and if this is to happen, I want to help this community take a cold, clear look at options for our future development. We need to decide where we want to be in ten, twenty and forty years' time".
And "I don't want these important decisions on our future and on our children's future taken by eight MLAs behind closed doors, advised by an ex-pat Chief Executive with little or no input from the public", underlined MLA Elsby, who described himself as a "passionate believer in open government".
The Falkland Islands government has made a start in freeing up information "but we have a long way to go to be truly open. It's my experience of Government that all too often the assumption is made that all information is confidential unless someone can be made to release it", affirmed MLA Elsby.