First CFK reply to Moyano: "best way to defend workers is to look after government"
Saturday, December 17th 2011 - 05:00 UTC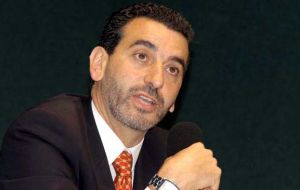 "The best way to defend workers is to look after the government" said Argentine Interior Minister Florencio Randazzo, the first official response to organized labour union boss Hugo Moyano speech on Thursday to a packed stadium of 80.000 roaring teamsters
Moyano on Thursday said he was stepping down from his positions in the ruling Peronist party because it had become an 'empty nutshell' managed from outside and replied to President Cristina Fernandez saying "workers were not into extortion or blackmail but after what was there's and what they deserve".
"Everyone has the right and freedom to say whatever they like. I however, am convinced that the best way to defend workers is to make sure the Government is looked after," sustained Randazzo, who replied to the CGT boss.
Randazzo was leading a ceremony dedicated to improving security on the roads and victims of road accidents Friday morning at the Buenos Aires city intersection of two main avenues.
Earlier in the day other government members responded to Moyano's speech bluntly, denying even listening to the speech. "I didn't listen to Moyano's speech", stated both Senator Aníbal Fernández and Victory Front lawmaker, Agustín Rossi.
"I didn't listen to it. Recently we've been hugely busy with work and to tell the truth, I've just not had time to listen to it. I don't even have time to read the papers," stated the former cabinet chief to the press at the doors of Congress.
Lawmaker, Rossi similarly stated that the workload in the parliament had been so much that he neither had been able to listen to the speech nor take the time to make comment.
"The truth is that I really have no idea what was said. I didn't listen to the speech, nor have I read anything. I was in the Congress from 12 pm midday to 6.30 am this morning and to be fair I don't believe it's my responsibility to pass comment over the topic," sustained the Victory Front congressional deputy.
However Moyano's speech was effectively and closely listened by the Argentine Industrial Union (UIA), whose president José De Mendiguren expressed deep concern over the growing differences between the Government and union boss Hugo Moyano.
"For us, the worst case scenario would be the fragmentation of the workers' union. We are concerned that there may not be anyone speaking for the unions; we hope difference with the government is resolved quickly" said De Mendiburen.
More specifically on passages of the speech at the stadium, De Mendiguren assured that "everything he said, he has said it before," and praised "his willingness to defend workers."
"Both workers and business leaders are concerned about improving the real salary" he explained, adding that "it would be great if we could all engage in dialogue, considering that in a few months we are supposed to start the collective bargaining process."
Finally he said that the UIA supports a social accord that involves the Government, corporations and workers in order to "improve income redistribution."