Mercosur drafting resolution barring Falklands' flagged vessels from all regional ports
Tuesday, December 20th 2011 - 02:07 UTC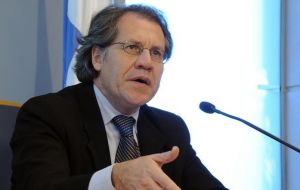 Mercosur member countries meeting in Montevideo for their regular six-month summit are drafting a resolution that would bar Falklands' flagged vessels from all Mercosur members' ports, following on the traditional Argentine policy and now openly supported by the Uruguayan government.
"We are circulating a draft declaration for vessels travelling to and from the Malvinas. The idea is that the vessels barred from one member country ports, are also barred from operating in other countries from the block", said Uruguayan Foreign Affairs minister Luis Almagro during the Monday morning meeting with his Mercosur peers and Venezuela's Nicolas Maduro.
Almagro added that "Uruguay has adopted a political decision on the issue (barring Malvinas flagged vessels). There are still juridical terms to implement, which are relevant because they will give shape to what will be applied from then onwards. We are working on them".
The minister denied any Argentine influence, lobbying or pressure on the Malvinas flagged vessels issue and also commented on the UK disappointment with Uruguay's position plus the fact Ambassador Nestor Moreira in London had been summoned to the Foreign Office.
"Our ambassador in the UK took notice of the British position", revealed Almagro.
In a brief statement last Friday released by the British Embassy in Montevideo the Foreign Office said "it would be most disappointing that Uruguay decides to back the shameful attempts by Argentina to harm the economy and way of life of the inhabitants of this small archipelago (Falklands) by blocking access to free trade".
The Foreign Office message added that Britain "has no doubts about its sovereignty over the Falkland Islands and will continue to support the right of the Islanders to determine their own political future".
"Nor we or the Falklands will yield to those pretending to intimidate or blackmail the Islands" concluded the release.
The British ambassador in Montevideo Patrick Mullee is scheduled to meet Minister Almagro on Wednesday following the two day Mercosur summit, when the block's rotating chair will pass from Uruguay to Argentina for the next six months.