Mercosur summit suspended following suicide of a top Argentine official
Tuesday, December 20th 2011 - 19:28 UTC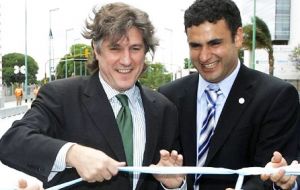 The Mercosur presidential summit in Montevideo has been temporarily suspended following the news that a member of the Argentine delegation had committed suicide which left delegation members in a state of shock.
On hearing the news Argentine President Cristina Fernandez suffered a decompensation and had to be taken for medical attention.
The news arrived following the presidential lunch and when the heads of state from Argentina, Cristina Fernandez, Brazil, Dilma Rousseff, Paraguay's Fernando Lugo, Venezuela's, Hugo Chavez, Rafael Correa from Ecuador and host Jose Mujica were preparing for the traditional Mercosur "family picture".
All activities were immediately suspended.
Ivan Heyn, 33, apparently was a brilliant economist, Foreign Trade Deputy Secretary and a rising star in the new "K" generation which is sponsored by the son of Cristina Fernandez, Maximo Kirchner.
According to Argentine sources Heyn was the economics advisor of Maximo and his political movement, La Campora.
His taste for politics and ascension in the "K" group came through his close friend Vice President Amado Boudou.