Venezuela's full incorporation doesn't have to be decided today, said Chavez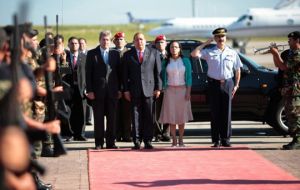 Venezuelan President Hugo Chávez arrived in Uruguay on Friday to push for his country's incorporation into the Mercosur trade bloc, in his first official trip abroad since undergoing cancer surgery in June.
However he played down expectations that Venezuela's complete membership would be approved during the summit. 'Venezuela's full membership doesn't have to be decided today,' he told reporters.
"It was Mujica's idea to put it up for negotiation. But it was never a goal to have it passed today," the Venezuelan leader said referring to Uruguayan President José Pepe Mujica's willingness to incorporate his country to the bloc.
"I bring my modest contribution to the integration," he remarked. Chavéz also welcomed Ecuador's President Rafael Correa´s request for full Mercosur membership. "It would be a Mercosur expansion towards the Pacific and the Andes," he said.
The 57-year-old populist leader aims to quell concerns over his health after doctors removed a large tumour from his pelvis and has been submitted to chemotherapy sessions. He plans to run for another six-year term in an October presidential election.
"I've overcome the most difficult phase of this cancer," Chavez told reporters upon arrival in Montevideo. "I'm fully back on my feet and here to make a strong play for Latin America's integration and unity."
Presidents from Mercosur countries are holding a two-day meeting in Montevideo to discuss ways to protect the region from a renewed global economic crisis.
Argentina, Brazil, Paraguay and Uruguay are the only full members of the bloc. Venezuela has been aiming for the same status for years, but congressional approvals have been slow to come and Paraguayan legislators continue to block the move.
Chavez appealed to the bloc's smaller members, saying "the day we have full membership in Mercosur, Uruguay and Paraguay will be able to sell much more to Venezuela."
Apart from visits to Cuba for medical treatment Chavez had not been abroad since he was operated on six months ago. He cancelled a trip to Argentina and Brazil earlier this month, citing floods in Venezuela".