The Falklands are resourceful and will adapt to changing logistics say industry sources
Wednesday, December 21st 2011 - 17:24 UTC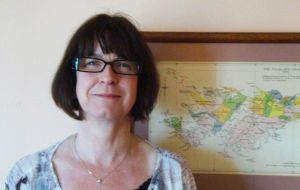 Reacting to the news this week that all Mercosur member countries had agreed to close their ports to ships flying the Falkland Islands flag, Cheryl Roberts, chair of the Falkland Islands Fishing Companies Association, stated that: "It is still too early to say exactly what the effect might be, whilst obviously disappointing we are now working to find solutions to minimise any potential impacts, both operational and economic, of the recent decision.
Logistically there are always alternative ways to operate. Access especially to Uruguayan ports has been convenient in the past but with operational planning and working together as an Association there are ways around it and solutions."
Cheryl Roberts added that "from the earliest days of settlement the Falkland Islanders have above all been resourceful, we have overcome inconvenience and difficulties in the past and are used to dealing with extended supply lines, we certainly won't be letting this attempted blockade effect our rights to do business and manage our own economy, fisheries or ship registry"
Councillors Jan Cheek and Richard Sawle, on Falkland Islands radio, expressed similar sentiments earlier in the week to the initial decision of Uruguay to ban Falkland flagged vessels.
MLA Jan Cheek commented: "It is extremely disappointing given the overall good relationship we've had with Uruguay for many, many years from the earliest days when we had the shipping link there and we have managed to retain that relationship even when there wasn't a direct passenger or cargo link through there. It's extremely disappointing that whatever they may say to the contrary it appears that they've let pressure from their neighbour influence them in this. They will be losing quite a lot of business but that will force us to bring that work, transhipping as well as the dockings, here. Whilst we can't do the major dockings here, we could certainly do more of the work and supply here. "
MLA Richard Sawle added: "It is interesting to note that the opposition in Uruguay has been extremely critical of (President) Mujica and I think that's absolutely right. The other interesting thing that came out of it was that Uruguay believes that it stands to lose significant business. I would say, well let's try and bring that business here. Let's try and make it happen fairly soon and fairly quickly. It reduces the threat to our fishing business and I think we need to try and work on that."
Cheryl Roberts also expanded: "we will obviously have to look for different ports and we'll have to take different routes for our vessels. There is a lot of the Falkland's fleet, and Spanish fleet, that use the ports of Uruguay to lay up vessels in between seasons, so it is going to have some effect on the bottom line of each company because we're going to perhaps have to travel directly back to Vigo instead of stopping in Uruguay as we do at the moment. So yes, it will have an effect but we can't say how much at this present time, there is a balance of port costs, transit costs and fish sales that are different for each port."
When asked on the potential to develop port facilities in the Falklands to serve the needs of industry, Cheryl Roberts commented "I think that's something that obviously does need to be addressed and it is something that is an on-going discussion with government and with the fishing companies on new port facilities, we've been discussing possibilities for quite some time and yes, we do need to look into that and we will continue to look into it."
Historically Montevideo, Uruguay, has been the main port that vessels operating in the licensed Falkland fishery have utilised and Brazil has not formerly been utilised. Facilities for transhipment of frozen cargoes already exist and are utilised in the Falkland Islands, whilst with fore-planning vessels can be re-supplied in the Islands and routine maintenance and dry-dockings can be re-scheduled elsewhere.
It would seem that the main impact would be to unforeseen damage and repairs when the unavailability of adjacent ports with ship-yard facilities could increase logistical difficulties and vessel down-time if facilities cannot be expanded locally.
By Grant Munro – SeAledPR - Stanley