Falklands' flagged vessels conflict: Almagro and Hague agree they remain in disagreement
Friday, December 23rd 2011 - 21:25 UTC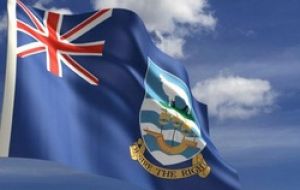 Uruguayan Foreign Affairs minister Luis Almagro spoke Friday on the phone with Foreign secretary William Hague for the first time since the Falklands/Malvinas' flagged vessels controversy, but both sides apparently could only agree that the situation remains stalled according to brief statements
In a brief declaration Almagro said that Uruguay was acting in consequence to its historic position (in support of Argentina's claims) regarding the Islas Malvinas adding that "admitting the Falklands/Malvinas flag would be to admit British jurisdiction and sovereignty".
He added "we have no problem with vessels of other flags covering the Montevideo-Malvinas route". Dialogue was 'frank' because "our personal relation with Mr. Hague is very good".
Likewise the Ministry said there would be nor formal statement, "for the moment" since following the phone contact at mid day Montevideo time, "the situation has not changed at all; it was another instance in the diplomatic steps that must be taken".
The British Embassy in Montevideo in a brief communiqué said that the discussion was "cordial and constructive" (civilized in diplomatic terms) and "we are hopeful of a satisfactory solution".
The announcement last week by President Jose Mujica that Uruguay had decided to bar Falklands' flagged vessels from Uruguayan ports in support of Argentina's claim over the Islands, and his sponsoring of a similar Mercosur summit declaration, caused "concern and disappointment" in the Foreign Office.
Friday a week ago the Uruguayan ambassador in London Nestor Moreira was summoned to the Foreign Office to explain the decision, and this Wednesday Minister Almagro received UK Ambassador Patrick Mullee in Montevideo.
At the time there was no official information on the Montevideo meeting besides the fact that the two diplomats had effectively met in a cordial atmosphere. And regarding Moreira, sources in Uruguay said as happens in these cases "he took notes of what was said".
Friday's British embassy was slightly more explicit saying that Almagro and Hague talked about "the path to follow" and Foreign Secretary Hague insisted "that the vessels with British flag must continue to have access to the ports of Uruguay".
In other words London considers the Falklands' flag a UK validated flag (or subsidiary) and therefore must be respected according to International Law.
The Uruguayan Foreign Affairs ministry is also trying to draft a protocol for the Coast Guard to proceed when Falklands/Malvinas flagged vessels request to enter Uruguayan ports. "The issue is not simple since the vessels have a UK certificate which was awarded by the Falklands/Malvinas governor, who is a Foreign Office official named by London".
Furthermore a report from the legal department from the Uruguayan Coast Guard states that there is no maritime law impeding Falklands/Malvinas flagged vessels from operating in Uruguayan ports.
The Uruguayan Coast Guard considers such vessels, with the Falklands/Malvinas flag, have a subsidiary authorization from the UK and any action involving them must be reported to the British embassy in Montevideo.
The Mercosur summit Tuesday statement talks about the commitment timely adopted "in conformity with International Law and the respective home legislations", to implement all measures susceptible of being regulated to impede the access to the region's ports of vessels flying the 'illegal flag of the Islas Malvinas".