Argentine human rights reference openly criticizes the Anti-Terrorism law
Tuesday, December 27th 2011 - 13:53 UTC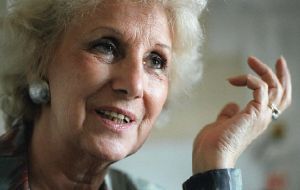 The president of Argentina's Grandmothers of the Plaza de Mayo organization, Estela de Carlotto, has joined Justice Raúl Zaffaroni and other sectors from the country in criticizing the recently passed Anti-terrorism Law.
"There's no terrorism in Argentina" said Ms de Carlotto, and admitted that she has "concerns" for the new law.
"We're concerned because there's no terrorism in Argentina. There were terrorist attacks against the AMIA Jewish Community Centre in 1994 and the Jewish embassy in 1992, and both of them were perpetrated by foreign elements, not Argentine," she said.
"If any Argentines were involved at all, it's because they were mercenaries. We shouldn't be concerned about the existence of a network," Carlotto said while being interviewed at a radio show.
The leader of the organization said that she trusts President Cristina Fernández, but that there is no certainty about whoever takes her place in office in the future.
"We're concerned because this Government guarantees us that social protests will not be repressed when people demand a right to work, to a better salary. Demands they have been making since forever that shouldn't be repressed, even when there is an unjustifiable unrest," Carlotto explained.
"But what happens to this law in the future, if other governments decide to interpret it in some other way? If judges just love to send protestors to jail? That is our concern," she stated.
Carlotto concluded by warning the media that it should "tone down" the way they cover crime-related news.
"If you keep playing them over and over, you're almost lecturing criminals on how to break the law. We shouldn't hide what's bad in society, but we should just say it once," she concluded.