Chile confirms it supports Mercosur resolution barring Falklands' flagged vessels
Tuesday, December 27th 2011 - 07:04 UTC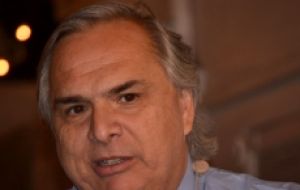 Chilean government Secretary General Andres Chadwick denied on Monday any official message from Britain or from Spain regarding Chilean support for the resolution that bars vessels flying the Malvinas flag from Mercosur ports, reports La Tercera from Santiago.
"So far we have had no expression of any kind from the British embassy in Chile on any situation relative to the Chilean government ratification of the Mercosur resolution, The British government is well aware of the Chilean State position on the issue, which has been unchanged for many years", said Chadwick.
The government, said the Secretary General, has supported "a foreign policy which has been permanent and sustained for many years in so far that there is no acknowledgment of an Islas Malvinas jurisdiction".
And if there is no such recognition, "such recognition can not be extended to vessels with the Malvinas flag, that is why Chile has subscribed the ratification agreement of what has been the standing policy of the Chilean State", emphasized Chadwick.
However undisclosed diplomatic sources in Chile and Argentina have said that there have been expressions of "concern" and "disappointment" from British representatives, so far unofficial, as well as apprehension from Spain and the Vigo based fishing fleet which operates under Falklands' flag and fears they will be barred from Punta Arenas, in the extreme south of Chile.
Chadwick also revealed that the Chilean Foreign Affaire ministry is reviewing the situation created by the Argentine government decision to ban the metropolitan airport of Buenos Aires, Aeroparque, for LAN flights from Santiago de Chile.
"It's a situation that the Foreign Affairs ministry is considering in reciprocity terms, and with certain continuity, because these things happen quite often. There are small reciprocities demanded from one of another commercial sector, and that is addressed at Foreign Affairs ministries level", said Chadwick.
The president of the Chilean Senate Foreign Relations Committee, Senator Eugenio Tuma also has been quoted in reference to the Mercosur resolution barring Malvinas flagged vessels from the region's ports.
"Our support to that position is total and the government of President Piñera "will stand behind any measure even of that magnitude".
"We believe the UK must sit and negotiate with Argentina and restitute the Malvinas Islands. We will continue to support any action that is geared to persuade the UK to find a solution to the conflict", said Senator Tuma.
"Chile's support, as an associate Mercosur member, should be complete otherwise it would be just a symbolic act".
Both Chadwick and Senator Tuma said there was "no possible link" between the decisions to ban Lan flights to Aeroparque with the confirmation that Chile would support barring Malvinas flagged vessels from its ports.
In related news President Sebastian Piñera will be receiving his peer Cristina Fernandez from Argentina at the end of January, a visit originally programme for September.
President Piñera in a recent interview admitted that Cristina Fernandez had talked to him in New York about the possibility of cancelling the weekly Lan flight from Punta Arenas to MPA in the Falklands and which once a month calls in at Rio Gallegos.
The suspension of flights "was mentioned to me by the Argentine president during our meeting in New York, but there has been no specific request on the issue", said the Chilean president at the time.