US calls for appreciation of the Yuan but falls short of labelling China a currency manipulator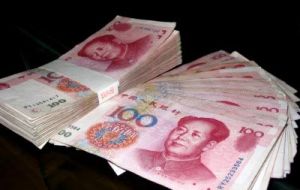 United States announced it will press for further appreciation of the Yuan arguing the currency is undervalued, while declining to brand China a manipulator of its exchange rate.
The US Treasury Department, releasing its semi-annual report to Congress on the currency policies of major trading partners, said on Tuesday it will "closely monitor the pace" of Yuan appreciation and "press for policy changes that yield greater exchange-rate flexibility."
The US contends that China uses an undervalued currency to give its exporters an unfair advantage in overseas markets and boost growth. At the same time, the administration of President Barack Obama has sought to avoid actions that could cause friction with the world's No. 2 economy and the second- largest US trade partner.
"Over the past decade, China has resisted very strong market pressures" for appreciation of the Yuan, the Treasury Department said in the report. "China's real effective exchange rate has exhibited persistent and substantial undervaluation, although the estimated range of misalignment (*) has narrowed over the course of the past 18 months."
China's currency appreciated about 7.5% against the dollar as of 16 December since it decided to loosen controls on the Yuan in June 2010. Because inflation in China is higher than it is in the US, the Yuan has risen by about 12% against the dollar in real terms, the Treasury said.
"While China's real exchange rate has appreciated, the process of appreciation remains incomplete," the Treasury said. It cited China's accumulation of 3.2 trillion dollars in foreign exchange reserves as of September and a persistent current- account surplus as evidence that the Yuan "is persistently misaligned and remains substantially undervalued."
"It's time for them to go ahead and move towards a market- based system for their currency," Obama said in Hawaii at the Asia-Pacific Economic Cooperation summit last month. "We recognize they may not be able to do it overnight, but they can do it much more quickly than they've done it so far." Obama said that "most economists" estimate the Yuan is 20% to 25% undervalued.
China will maintain a "prudent" monetary policy and a "proactive" fiscal policy next year, the official Xinhua news agency reported last 10 December, citing a meeting of the Communist Party's Politburo led by President Hu Jintao.
Under a 1988 law, the Treasury is required to report to Congress twice a year on international economic conditions and exchange-rate policies. The Treasury is required to enter direct talks with a country deemed to be manipulating its currency, and also seek redress through the IMF. The last country labelled a manipulator was China, in 1994.
(*) misalignment is a term from the IMF which refers to non compliance with members' responsibility.

Yuan is estimated to be undervalued by 20% to 25%