The Iron Lady opens Friday in the US, "a Shakespearean story about power and loss"
Thursday, December 29th 2011 - 22:48 UTC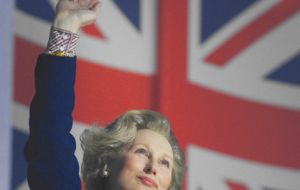 Making a film about an iconic politician like Britain's Margaret Thatcher is akin to walking into a movie minefield, and casting an American -- even one as revered as Meryl Streep -- is asking for more trouble.
Yet the makers of new movie "The Iron Lady," which opens in US theatres on Friday, went one step further.
They chose to depict Thatcher, now 86, as a confused, lonely woman looking back on past glories, and doing so takes the kind of guts once exhibited by the former British prime minister herself.
British director Phyllida Lloyd and screenwriter Abi Morgan said they never set out to make an historical biopic or a film about politics. They wanted to tell the story of a woman of ordinary origins who rose to great power only to fall back again into a normal, elderly life that is much like anyone's.
"It is a Shakespearean story about power and loss, and the cost of a huge life, and letting go" Lloyd told Reuters.
"The Iron Lady" is the first feature film about Thatcher, Britain's only female prime minister who was elected in 1979 and forced, in tears, out of office in 1990 after losing the support of her cabinet.
Thatcher, a Conservative, was revered for uncompromising opposition to the Soviet Union and for putting the "Great" back in Great Britain. But she also was reviled by labour unions and blamed for creating deep divisions in British society.
Lloyd said there has been "astonishingly little backlash" in Britain about casting American Streep to play the British icon. Moreover, the role required portraying a woman in the prime of her life and in decline, and that sort of contrast meant a skilled actress who understood the nuances of both.
"You needed someone of the magnitude of Meryl Streep to take on Margaret Thatcher's size and personality. You needed a superstar to play a superstar," Lloyd said.
The casting appears to have worked. Streep, a master of theatrical manipulation, has received an armful of awards for her performance and is tipped to get her 17th Oscar nomination when Academy Award nominees are announced in January.
But Streep and the filmmakers wanted to do more than a movie biography of Thatcher and her politics.
"Meryl said that, for some time, she had been looking for a project that considered the end of things. She didn't see it as a biopic in any way," said Lloyd.
And fitting all the decisions in 11 years of leadership, along with Thatcher's rise from grocer's daughter to the highest echelons of power in a male-dominated world, was "like squeezing a large lady into a too-tight dress," Morgan said.
So Morgan chose to set the movie in the present day, when Thatcher has decided to let go of her dead husband Denis's clothes and is ambushed by selected memories of her past.
That decision meant introducing the fragile mental health of Thatcher, who suffered a series of small strokes after leaving office. In 2008, her daughter Carol revealed that the former titan of British politics suffers from dementia. Thatcher herself has been out of the public eye for 10 years.
"We considered very deeply the morality of discussing this issue about someone who was still alive. But we felt Carol (Thatcher) had given us this cue, that it was something that could be discussed. And we were all confident that Meryl would take care of Lady Thatcher's dignity," said Lloyd.
The filmmakers did not seek the cooperation of Thatcher's family but relied on her published memoirs, input from 1980s politicians, and hours of TV footage and speeches.
Lloyd and Morgan hope their approach will help the movie resonate with people who are less familiar with Thatcher.
"I think international audiences will see it as a very humane study of power and the isolation of power. I don't think they bring the same baggage to the film as British audiences," said Morgan.
With a female director, writer and star, "The Iron Lady" has strong feminist undertones and highlights nuances of the British class system in which Thatcher was viewed as an outsider.
Yet, despite dealing mainly with events 20 years ago, it also has resonance today. "We find ourselves back in a position where there are not many women (in high positions) in parliament," Lloyd said.
"Britain has a government quite dominated by men from very privileged backgrounds. We are in a recession, our government has taken austerity measures and we have riots on the streets and strikes. Does that make Margaret Thatcher just one pendulum swing in history or the architect of where we are today".