Tourists evacuated from Torres del Paine park threatened by forest fire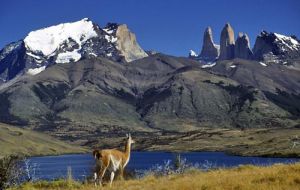 Twenty tourists had to be evacuated from the Torres del Paine national park in Chilean Patagonia following the outbreak of a forest fire that has extended to over twenty hectares because of strong winds and difficult access for fire-fighters, reports the local press.
The tourists were camping in a refuge just two kilometres away from the fire which was first reported last Tuesday, next to the Grey Lake along a 60 degrees slope which makes the task of 80 fire-fighters extremely perilous according to a release from the Chilean National Forestry Corporation, Conaf.
The fire was located next to a tourist path and although the cause has not yet been clearly established it is believed a campers' bomb-fire not properly extinguished and with the help of strong winds had much to do with the incident.
Given the slope many of the fire-fighters and CONAF members have had to approach the burning slope from the lake in Zodiacs but the winds are proving a formidable enemy.
The regional Emergency Office from the province of Ultima Esperanza where the park is located has declared a "red alert" and described the situation as "very complicated, almost critical"
Support has been requested from the Chilean Army and the nearby mining town of Rio Turbio in Argentina.
Jonathan Donaide from the Emergency Office said that winds blowing at over 80 kilometres per hour are making the task of fighting the fire "extremely difficult".
Torres del Paine Park with over 242.242 hectares is one of the most visited in Chilean Patagonia.
In February 2005, a fire by a careless Czech tourist wiped 13.880 hectares of native flora, causing a major catastrophe.
A camping gas store not properly used by Jiri Smitak sparked the fire. He was arrested and sentenced but apologized and begged for pardon. He was finally set free but the Czech government later financed the reforestation of the destroyed area.
The smoke from the forest fire can be seen from the park's administration's office 35 kilometres away.
Vicente Nuñez head of Chile's Ministry of Interior Emergency Office said tht the regional civil protection system has been activated on the field with all the operational coordination needed to confront the emergency".
A Twin Otter is over-flying the area to assess the situation and keep track of the fire.
Nuñez said four forestry brigades, two from Torres del Paine, one from Punta Arenas and another from Puerto Natales are involved in the operation.