Argentine ambassador who ignores basic facts on the Falklands takes office in Washington
Friday, December 30th 2011 - 06:28 UTC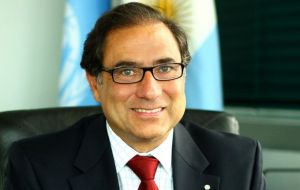 Ambassador Jorge Argüello arrived Thursday to Washington and immediately began activities as head of the Argentine embassy before the US with a first round of talks with members of his staff, according to a release from the embassy.
Argüello also held a round of phone contacts with the different Argentine consulates and trade offices in US cities.
On arriving at Washington airport Argüello was greeted by the chargé d'affairs from the embassy, Conrado Solari Irigoyen and by the head of the State Department desk for the region, Bernie Sanders.
The Argentine ambassador is scheduled to present his credentials to President Barack Obama next 18 January in the White House.
In the morning Argúello imposed in his job the new Chargé d'affairs of the Argentine representation before the United Nations Mateo Estremé. He will be in charge until the ambassador who replaces Argüello arrives in New York.
Argüello was first elected to the Argentine Lower House in 2003 and was president of the Lower House Foreign Affairs Committee and of the Parliamentary Observatory on the Malvinas Islands.
Besides his job as former ambassador to the UN, Argüello has toured the world pressing for Argentina's sovereignty rights over the disputed Falkland Islands has managed to make some fantasy statements regarding the Islands.
One of his famous was that the Falklands' population is held captive in the Islands by the British military, since they would love to migrate to Argentina where there are "plenty of jobs and work opportunities".
He has also mentioned that Islanders prefer to remain in the Falklands because contrary to UK residents they receive 'full' social welfare benefits.
Ignoring the Falklands flourishing economy Argüello had no qualms in stating that it is precisely UK social welfare and the British military that are crucial for the 'heavily subsidized' Falklands colonial economy.
All his statements have been solidly denied with facts by the elected government of the Falkland Islands based on internationally audited figures.