Lan Argentina protests barring of its operations from Buenos Aires metropolitan air terminal
Friday, December 30th 2011 - 06:24 UTC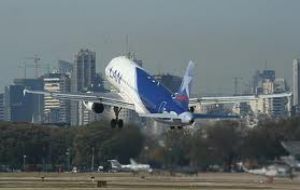 Lan Chile airlines admitted on Thursday before the Chilean Securities and Exchange Commission that the decision by the Argentina's Civil Aviation authority, ANAC, to revoke Lan Argentina flight authorizations to Brazil, Paraguay and Chile from Buenos Aires metropolitan airport Jorge Newbery "would not have a relevant financial impact for Lan Airlines at consolidated level
However Lan Chile cautioned that for Lan Argentina "this discriminatory act from Argentina's civil aviation authority will impact income and generate greater costs given the reorganization of schedules which involve daily flights from Buenos Aires to Sao Paulo and to Santiago de Chile, something which is totally unjustified and arbitrary".
Lan Airlines Finance Vice-president Alejandro de la Fuente said that Lan Argentina last 20 December had presented a demand before the Argentine courts "to suspend the effects of ANAC administrative action since the revocation has no technical foundation, it is totally discriminatory (since it only involves Lan Argentina and none of the other domestic and international airlines operating from Buenos Aires metropolitan air terminal), and is an attack on Lan Argentina's permits' property rights previously awarded by none else but ANAC".
Lan Argentina also recalls that last 24 November ANAC awarded Austral airlines, an affiliate from Aerolineas Argentinas permits to operate flights to Brazil, Paraguay and Chile and only twelve days later and "with no justification and in an entirely discriminatory display", revokes similar permits effectively in use by Lan Argentina.
On Thursday also, close to a hundred workers of the Lan Argentina staged a protest at the check-in area of the Buenos Aires metropolitan airport to protest the recent ANAC decision to suspend all of the airline's regional flights leaving from that airport.
A spokesman for the Airline Pilots Association (APLA) told Ambito.com that the protest was staged at the check-in area of the Aeroparque, but he assured "it doesn't affect passengers". Aeropuertos Argentina 2000 that manages Aeroparque confirmed that no flights were being delayed or cancelled due to the protest and that the airport is operating normally.