A Malvinas war veteran dies in an attempt to cross to the Falklands in a kayak
Saturday, December 31st 2011 - 18:43 UTC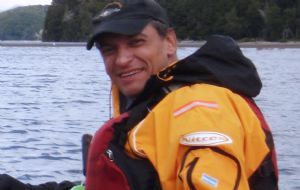 A Malvinas war veteran drowned in an attempt to reach the Falkland Islands in a kayak from Ushuaia while his companion was rescued by an Argentine Navy patrol and is in hospital in a state of chock, reported the Buenos Aires press in the last day of 2011.
Alejandro Daniel Carranza, 49, who fought in Mount Longdon wanted to challenge the ocean and reach the Falklands in a kayak for which he trained for months, but the rough sea and winds defeated him.
Carranza had planned the crossing to the Falklands for several years together with his friend of adventure, Juan Pablo Dacyszyn, 36, another kayak professional who managed to survive swimming to safety at the Isla de los Estados where he took refuge for a day and a half in a cave before he was rescued.
Alejandro and Juan Pablo were professional kayakers; they had state of the art equipment and given their backgrounds had managed to collect 30.000 dollars from sponsors for the adventure. They had left Ushuaia on 6 December and had so far covered 800 kilometres along the west coast of Tierra del Fuego and were preparing to climb along the east coast.
"First of all we want to make plain clear that this expedition is purely a sports event and has no political intention or implies any sovereignty claim to the Islanders or their authorities" Carranza had written in his blog, Delfindelmundo a Malvinas.
However the first leg of the expedition, from Ushuaia to the Isla de los Estados, at the tip of Tierra del Fuego across from the Strait of Le Maire, ended tragically when a spat of bad weather in one of the most dangerous sea crossings plunged him to the sea. Frankilin Bay is to the west of the emblematic lighthouse at the End of the World.His partner Juan Pablo survived and contacted a rescue centre. The navy patrol 'Francisco de Gurruchaga', after three attempts finally reached him in spite of the terrible weather conditions and transported him and the body of Carranza to Ushuaia.
In his blog Carranza wrote that "War was a stupidity, we have to make friends again with the kelpers. The only way to recover the (Malvinas) Islands is by rowing. I'm not going to see it, nor my son, but I have hopes that one of my grand children will. This is the spirit that drives me in the expedition".
"Physically he's fine but he remains in a state of shock, he doesn't quite understand what really happened", said Hector Daniel Vera, the officer in charge of the Coast Guard station who rescued Juan Pablo.
"He told us they left with good weather and then an unexpected gale started to blow. He survived because he was well equipped", said the Coast Guard officer.
Juan Pablo took refuge in a cave ten metres above sea level where he had good clothing, food and communications equipment.
Carranza's autopsy confirmed he drowned but it is believed he suffered a blow and fell to the sea. An official judicial inquiry has been opened.