Cristina Fernandez confirms full support for new governor of Rio Negro
Monday, January 2nd 2012 - 20:51 UTC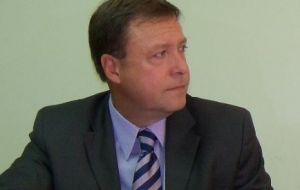 A senior lawmaker from the ruling coalition of Argentine President Cristina Kirchner said that the Peronist party in the province of Rio Negro "would stand by" Vice-Governor Alberto Weretilneck, scheduled to take office as provincial governor on Tuesday due to the death of former governor Carlos Soria.
"He's a part of the Kirchnerite model" said Senator Miguel Angel Pichetto, a leading figure in Congress.
"The Río Negro Peronist Party has always been very respectful of institutional rank structures. We will not impose anything on him, even though we know we are the province's largest party. We are leading 33 towns and have a majority in parliament, but we're still going to stand by the Vice-Governor. He's a part of the Kirchnerite model" assured Pichetto.
"We're going to abide by the Constitution. Soria was a genuine expression of the Río Negro Peronism," a party that was put back in power this year after 28 years of Radical rule.
"Now we have a new reality, and a man from the Large Front party is going to take office," he added.
Pichetto, who said he was "very close" to Soria, defined the former governor as a "passionate, temperamental man who wouldn't go unnoticed, and who was deeply committed to government action."
The Senator, originally from Río Negro, said he spoke several times to President Cristina Fernandez on Monday to provide her with more details of the case, and that she "reaffirmed her will to respect Rio Negro's institutional quality."
"He was going through one of the best times of his life. He had made it to Governor and had started organizing his province," concluded Pichetto.
Meantime the judge in the murder investigation confirmed that Soria's wife, Susana Freydoz "has been charged because she is currently under investigation for the murder of the Río Negro governor." He said she would not, however, be detained because she is not a flight risk
He explained that the woman is still being examined by forensic officials and that she's still "in no condition to be questioned." The prosecutor is still waiting for the results of the crime scene analysis before questioning her.
Judge Juan Pablo Chirinos confirmed to reporters that Freydoz will be questioned some time this week since she "cannot undergo questioning today due to a persistent state of shock. As a matter of fact, she's being assisted by doctors and remains sedated."
According to official reports, a 38-caliber gun was fired as the Río Negro governor and his wife were in their bedroom, after spending New Year's Eve at their small farm in Paso Córdoba, close to the city of General Roca, Río Negro's capital. It was also confirmed that the couple was having an argument. Police responded and found Soria bleeding from a gunshot wound in his face.