Peruvian fish exports soar in volume and income: 2.8bn dollars in ten months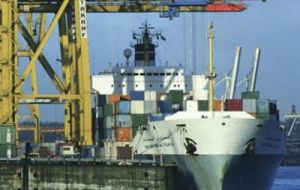 Peruvian fish exports generated during last October generated 206.2 million dollars which represents 42.1% more than in the same month of 2010 (145.1 million), while export volume jumped 42.8% from 89.200 to 127.400 tons, the Ministry of Production reported. The increases were primarily due to higher sales of fishmeal.
As indicated by the latest Statistical Bulletin issued by the Ministry, in the first ten months of 2011 the export of 1,784,600 tons generated 2.83 billion dollars, compared to 1.506 million and 2.283 billion dollars in 2010.
In October 2011 Peruvian fish meal exports totalled 75.600 tons whereas in the same month in 2010, 47.500 tons were exported which represents almost 60% increase. Regarding income the figures are 94.4 million dollars and 67.3 million which means an increase of 40.2%.
Between January and October 2011 a total of 1,183,100 tons of fishmeal was exported, 15.2% more than in the same period in 2010 (1,026,900 tons). The main markets for Peruvian fishmeal were China, Germany, Japan, Chile and Vietnam, which bought 84% of total sales through October 2011.
October exports increased sales of fishmeal abroad in the first 10 months up to 1.63 billion dollars, up 6.6% over the same period in 2010 (1.5 billion).
Meanwhile, last October crude fish oil exports totalled 17.800 tons and 27.7 million dollars, or 3% more than in the same month of 2010 (24.4 million dollars). In the first ten months of 2010, fish oil exports totalled 202.600 tons, 3.3% less than in the same period of 2010 (209.600 tons). Income reached 265.7 million dollars, up 30.3% over the same period in 2010, 203.8 million dollars.
Denmark, Belgium, Chile, Canada, China and Spain accounted for 82.4% of fish oil exports registered up to last October.
As to frozen products, exports in October 2011 reached 26.300 tons, up 124.7% compared to the 11.700 tons of a year earlier. And in the ten first months of last year exports totalled 314.400 tons, representing 40.1% more than in a similar period of 2010 (224.400 tons). (FIS).