Cristina Fernandez undergoes full thyroidectomy with "no complications"
Wednesday, January 4th 2012 - 22:55 UTC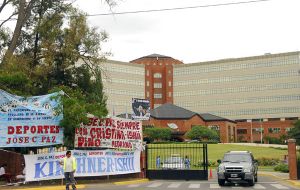 Argentine President Cristina Fernandez thyroid cancer surgery was completed with "no inconveniences or complications", said the official medical release signed by the intervening specialists, adding that a full thyroidectomy was practiced.
Presidential spokesman Alfredo Scoccimarro made the official announcement a little over two hours after the Head of State came out of the operating theatre on Wednesday close to mid day.
Scoccimarro added that the President was "awake" and will remain in hospital for the next 72 hours. The next official medical report will be issued tomorrow (Thursday) at noon.
The operation Wednesday morning for thyroid cancer and surgery took a little over three hours. The Head of State was taken into the operating theatre at approximately 8.20 am in the morning.
The Argentine president arrived to the Austral Clinic at 7am in the presidential helicopter where hundreds of Kirchnerite activists awaited her arrival, camped outside the hospital in the Greater Buenos Aires locality of Pilar.
Armed with dozens of flags and posters covered with messages, young activists set a camp outside the hospital. The militants mostly belong to the Movimiento Evita; the Peronist Youth (Juventud Peronista), and Tupac Amaru movement.
Likewise, a large truck belonging to Movimiento Evita, led by picket leader Emilio Pérsico, the same one used by the Head of State as stage during the celebrations of her resounding victory in the October 23 presidential elections. Videos of the President are being played through out the day in a large screen installed in the truck.
In addition to the makeshift camp of supporters there was also a strong media presence surrounding the hospital, with journalists from both local and international press outlets.
Security measures have been taken to minimize the amount of people who will pass through the hospital, including the installation of several security cameras around the area and inside the building.
Security on the floor where the Argentine president will recover is controlled by Federal Police officials and the President's security detail.
According to specialists thyroid removal is a relatively routine surgery and a swift recovery is expected. Cristina Fernández was diagnosed papillary thyroid carcinoma and since it was detected early there is no sign of metastasis and chemotherapy will not be required as part of her treatment.