Piñera announces partial reopening of Torres del Paine Park under strict controls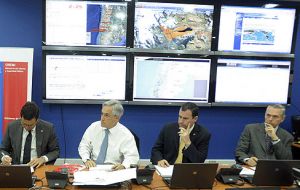 Chilean President Sebastián Piñera assured on Tuesday that several forest fires in Torres del Paine, Chilean Patagonia, were "under control" and announced that the national park will partially reopen as of Wednesday. It has remained closed since last Friday when the fire went out of control.
Standing next to Vicente Nuñez, head of the Chilean national Emergency Office, President Piñera confirmed that the blaze had destroyed 14.500 hectares, of which 70% steppes and grasslands and the rest natural forest and shrubs.
"I can therefore announce that the successful combat of the forest fire which started Tuesday last week has allowed us to control damage. Of the six original fires, four have been controlled and the other two are in process", said Piñera.
The partial reopening becomes effective Wednesday 08:00 in the morning and covers approximately 100.000 hectares (out of 242.000) basically the so called traditional Torres del Paine and Rio Ascencio Valley tourist circuits plus the Las Torres Hotel; areas for campers at Cuernos, Serón, Dickson and Rio Los Perros plus the Laguna Azul camping.
The rest of the park will remain closed and under "constant monitoring". However the re-opening covers almost 80% of the tourist access area of the national park which receives every year on average 150.000 visitors, making it the main attraction of Chilean Patagonia.
But Piñera also announced that security measures in Torres del Paine will be reinforced.
"Every single person that enters the park will be fully identified; they will be instructed on security mechanisms and will be accompanied by guides, to guarantee that during the summer period, and now with this particular situation with two fires in process of extinction, we can proceed to the reopening of the park with full protection of human lives and protection of our wild life and environment heritage", said the Chilean president.
Piñera also revealed that fire brigades are involved in fighting 51 different forest fires in several Chilean regions, which remain active because of a very dry season and lack of sufficient rainfall.
The most challenging is in the central region of Bio-Bio where one person was killed, 20.000 hectares have been lost to the blaze and 749 fire fighters are involved in the situation.
Of the 51 fires, Piñera said that as of Tuesday afternoon, 7 have been extinguished; 24 are under control and 20 remain active.
"We are going to be most alert because this summer season is and most probably will continue to be extremely risky and vulnerable to fire", underlined the Chilean president.