The Falklands, like a duck in basket
Wednesday, January 4th 2012 - 14:42 UTC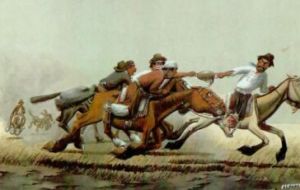 Penguin News Deputy Editor John Fowler explains it from the point of view of the people that actually matter - the Islanders.
I have written before about the frustration all Falkland Islanders feel when the world's media and the Argentine Government persist in viewing our future as dependant on a competition for ownership between Britain and Argentina in which we have no part at all. You could say we feel like the duck in the basket in the traditional gaucho game of 'pato.' This poor creature used to end up belonging to one side or the other, but was likely to be battered to death in the process.
It is frustrating, but understandable also, to see this view taken up by world leaders, who, given much more pressing concerns, would not think about the Falklands/Malvinas at all, unless prodded into it by the ranting of the Argentine President and her acolytes and don't really have either the time or the interest to examine the matter further. While maybe not automatically agreeing that Argentina should have sovereignty over us, they can't see why the British steadfastly refuse to sit down to talk it over with the Argentines. After all, talking is how international disputes are solved, isn't it?
While I have been driven to impotent rage in the face of many of the recent utterances on the situation in the South Atlantic since Argentina began to enlist allies and give teeth to her economic blockade of the Falklands, I found myself in broad agreement with the pundit who said that it was time for both the British and Argentine governments to explain their particular positions in more detail, though I would add that the Falkland Islands also has some soul-searching and explaining to do too.
In this regard, the British Government would, I am sure, point to the many statements issuing from the Prime Minister down, which "guarantee the right of self-determination to the people of the Falkland Islands." My feeling is that in this age of tweets and sound bites, a world with the attention-span of a goldfish requires something more punchy than this from the UK Government: maybe a series of short public information adverts with suitable film and music to be broadcast on BBC World or CNN. They could carry messages like, "The Falkland Islands for Falkland Islanders" or "Argentina, not your oil, not ours, but theirs."
If, as is possible, such an approach might appear far too frivolous for the Foreign Office, then maybe we need to recruit some television face of unimpeachable credibility – like David Attenborough before the polar bear birthing scandal – to explain carefully the difference in terms of autonomy between a colony and an Overseas Territory and to state categorically that if in the fullness of a very long time, the Falkland Islands were in a position to declare independence, the British Government, far from being upset, would be supportive. (Of course, we would have to do our part by relegating "British" to the status of a cultural declaration and say, "Falkland Islander" when asked our nationality.)
The real need for explanation, of course, is from Argentina. Not an explanation of the dubious historical basis for their sovereignty claim; heaven knows we have heard enough about '1833 and all that', but rather – once they have explained the point of talking to a country whose very constitution allows for only one legal outcome of such talks - a clear explanation of what they would do with the Islands if they got them. Our suspicion is that instead of being as we are now, a prosperous and largely autonomous territory we would soon become an impoverished and neglected colony, but this time of Argentina.
Of course, in the weird parallel universe in which we sometimes seem to exist, there is already an answer; the Islas Malvinas (which is the name by which we are known to the Spanish-speaking world) are part of an Argentine province and are governed from its capital in Ushuaia, Tierra del Fuego. Notwithstanding the fact that we never seem to see any civil servants from there, or road sweepers, teachers or policemen, I bet that they exist and are probably even drawing wages for looking after our alternative parallel selves. (Actually, thinking about it, if they are like so many other Argentine civil servants, road sweepers etc, they probably have to storm City Hall or man the barricades from time to time in order to get paid).
Having just read on the Daily Mail's web site an imagined and somewhat ill-informed scenario of what would happen if Argentina were to attack again, I wish I could find a much longer and funnier account in Spanish that I received by email many years ago about how the Islands would have fared if the Argentines had not been dislodged in 1982.
Starting with the arrival of prisoners, corrupt politicians, prostitutes and wind-screen washers, the writer traced the dissolution of every aspect of our orderly society leading to the departure of all its original inhabitants to be replaced by carpet-baggers of all kinds. This descent into chaos ended after a year or two, when the power station ceased to function through lack of basic maintenance in the middle of an unusually cold winter, bringing about overnight the death from hypothermia of the remaining population, The Islands then remained deserted and abandoned until some years later, the arrival of a British war ship brought hope of a new beginning.
The writer of this gloomy scenario, which seems to me to be as likely now as it was back in 1982, ended by saying that he supposed it would all seem very funny to anyone except those, who like him, had had the misfortune to be born in Argentina.
By John Fowler – Penguin News - Stanley