In Chilean schools, General Pinochet' rule will be known as "a military regime"
Thursday, January 5th 2012 - 05:01 UTC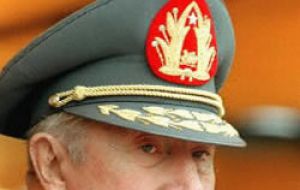 A political row has broken out in Chile after it emerged that the Conservative government is changing the way school textbooks refer to the military rule of Gen Augusto Pinochet.
From now on, it will be described as a "regime", and not a "dictatorship". The rest of the political spectrum has accused officials of trying to whitewash history.
The government says the decision to use what it calls a more general term is not politically motivated.
More than 3,000 Chileans allegedly disappeared or were killed by the armed forces during General Pinochet's rule, which ended in 1990. Many thousands more were tortured or illegally detained, and the legacy of the period is still bitterly disputed.
The decision to change the way primary school textbooks refer to military rule, dropping the word "dictatorship" was taken by the National Education Council.
Education Minister Harald Beyer, who was appointed last week, defended the decision, but said the government had not been directly involved.
"It is about using the same expression that is used around the world, a more general term such as military regime," he said.
Mr Beyer added that he personally "had no problem" in recognising that Gen Pinochet led a "dictatorial government".
In Chile so far several expressions have been used to refer to Pinochet and his government: dictatorship, military regime, military government and Armed Forces government, but it's the first time that one of them is selected for schools' curricula.
Pinochet used to call his administration a 'dictablanda' or soft dictatorship in opposition to 'dictadura' or rough dictatorship which he linked to the totalitarian regimes of the Soviet era.
The violent and bloody uprising he commanded in 1973 has been defined as coup d'Etat, military coup and by his followers a "military prouncement".
Senator Isabel Allende - whose father President Salvador Allende was overthrown and died in the 1973 coup led by Gen Pinochet - said it was "unacceptable".
"It goes against all common sense, because the whole world knows that for 17 years what we had in Chile was a ferocious dictatorship with the most serious violations of human rights," she said.
"History cannot be changed by a decree or a law," said former President Eduardo Frei, who led Chile from 1994-2000. "There is only one history and it is clear: it was a dictatorship, full stop"
President Sebastian Pinera is Chile's first conservative leader since the return to democracy. His majority in parliament depends in part on the right-wing Independent Democratic Union, which supported Gen Pinochet.