Piñera reaffirms Antarctica policy and invites Mujica to visit Chilean bases
Thursday, January 5th 2012 - 05:36 UTC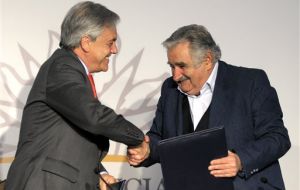 Chilean president Sebastián Piñera will be flying to Antarctic next 13 to 15 January together with his Uruguayan peer Jose Mujica, announced on Wednesday Chile's Foreign Affairs minister Alfredo Moreno.
President Piñera has decided "to confirm, support and reinforce the Antarctic vocation of Chile", said Moreno in Government House, Palacio de la Moneda, following a meeting of the Antarctic Policy Council, chaired by the Chilean leader.
Piñera already visited Antarctica in February 2011 when he invited his Ecuadorean peer, Rafael Correa.
The three countries, Chile, Uruguay and Ecuador have Antarctic bases and stations.
Most Uruguayan presidents since the return of democracy in 1985 have visited Antarctica: Julio Maria Sanguinetti; Luis Alberto Lacalle and Tabare Vazquez in January 2010. Uruguay has its main base "General Artigas" on King George Island.
At the meeting in Casa de la Moneda it was also announced that the Chilean government is planning to move further into Antarctica.
"Chile has bases in the Antarctica peninsula, but all of them are out of the South Pole circle, so we are considering several alternatives where Chile could make a further penetration into Antarctic territory, with special emphasis in scientific research" said Minister Moreno.
During the Antarctic Policy Council Piñera also asked to reinforce Punta Arenas and Puerto Williams logistics capacity so as to improve the support for Antarctica bases.
The two cities are in the extreme south of Chile and of the 28 countries that operate and send expeditions to Antarctica, 17 of them do so from any of these two locations.
Moreno said that Chile's Antarctica policy has four main objectives: increasing Chilean presence in the area; greater penetration into the Antarctic continent; reviewing legislation dating back to 1995; having Punta Arenas and Puerto Williams as hubs of Antarctic services and promote tourism to the Antarctic continent.
The minister added that Chile is considering regulations to promote the arrival of cruise vessels to Antarctica since most tourists fly in.
Finally the Antarctic Policy Council received proposals for the creation of an Antarctic Environmental assessment Operational Committee; to consider the extended Antarctica continental platform; to regulate Antarctic tourism; the Antarctica Bill and a review of the Punta Arenas and Puerto Williams infrastructure.