Spanish vessel with Falklands' flag barred from the port of Punta del Este
Thursday, January 5th 2012 - 01:18 UTC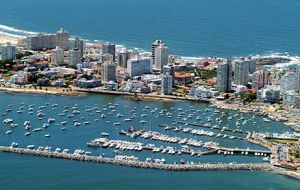 A Spanish fishing vessel flying the Falkland Islands flag was barred from entering the alternative port of Punta del Este where she was planning to receive crewmembers. The news was confirmed by Uruguay's Coast Guard.
Last 29 December the Uruguayan Coast Guard officially informed the Navigation Centre, which brings together all (Montevideo) port operators that Falklands' flagged vessels would not be allowed to dock in Uruguayan ports including alternative terminals such as Punta del Este and La Paloma, both tourism and fishing ports.
The decision sponsored by the Uruguayan government in support of Argentina's sovereignty claim over the Falklands and later approved by Mercosur for all regional ports caused great concern among the Galician fleet since almost twenty of their South Atlantic vessels are registered under the Falklands flag.
Montevideo has been traditionally the supply, bunkering, repairs and transhipment hub for the Spanish South Atlantic fleet.
The fact that following the December Mercosur summit in Montevideo the decision was made extensive to Brazilian ports, considered an alternative instead of Uruguay, was described as "the worst possible piece of news" by the Vigo and Spanish media.
Contacts have began with London and with the new Spanish government of President Mariano Rajoy to help mitigate Argentine pressure and "not have Spanish fishing vessels hostages of a sovereignty conflict between the UK and Buenos Aires".
"The blockade of Mercosur ports to Spanish vessels is worrying, unacceptable and plain blackmail, and there is no possible right in support of barring the vessels. It's a terrible precedent", said Jose Manuel Muñiz president of the Spanish Association of Registered Fishing Masters.
Jose Ramon Fuertes, Managing Director of the Vigo Fishing vessels cooperative questioned that Argentina should challenge and harass Spanish fishing vessels on their way to the Falklands as happened last 17 December with the "Villa Nores", since "innocent passage and free navigation are protected by international conventions".
Fuertes regretted that "once again the Spanish fishing fleet or of Spanish capital is the target" when other fleets operate freely in the South Atlantic "with no questioning or obstacles"
The whole situation caused a serious diplomatic exchange between Uruguay and the UK regarding the Falklands' flagged vessels, including a phone interview between Foreign Secretary William Hague and Uruguay's Foreign Affairs minister Luis Almagro.
Both officials agreed they had a disagreement and stood firm in their positions. However Uruguay at all moments made it clear that UN recognized flags from all over the world, including the red ensign are welcomed in Montevideo, with the exception of the 'illegal' Falklands banner.
The Uruguayan government and port of Montevideo local maritime chandlers industries are hopeful that the Falklands' vessels will change to some other flag thus avoiding the inconvenience.