Argentine president recovering with "no complications" and in "good spirit"
Friday, January 6th 2012 - 06:55 UTC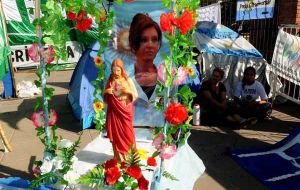 Argentine President Cristina Fernández' recovery is showing "no complications" and she is in "good spirits" announced presidential spokesman Alfredo Scoccimarro in the medical follow-up from the Wednesday thyroid cancer surgery.
Scoccimarro further stated that "all medical tests are within normal parameters," and the President was "able eat and walk about" following the surgery which was a complete thyroidectomy.
He added the next report would be announced Friday. Cristina Fernandez is scheduled to spend 72 hours in convalescence before she is discharged from hospital. This will be followed by a period of rest at her Patagonian home in El Calafate until the last week of January.
Meanwhile the Kirchnerite activists, who have been camping for the past three days outside the hospital, were still showing their support for the President, screaming and cheering upon hearing the news of her good health.
President Amado Boudou, who is acting as President until Cristina Fernández is fully recovered from thyroid surgery, continues to keep a low profile on Thursday and carries his activities in an office of the Banco Nación.
According to official sources, the Vice-President started his day at 10 am by meeting with the Senate's provisional president, Beatriz Rojkés de Alperovich. After 11:30 am he met with the head of the Office of Internal Affairs, Daniel Reposo.
Minutes after listening to the second medical report on Fernández de Kirchner's post-op, Boudou met with Economy Minister Hernán Lorenzino, which has been routine since taking office.