"Ninja" patrol vessel joins the annual Antarctic dispute with Japanese whalers
Friday, January 6th 2012 - 07:12 UTC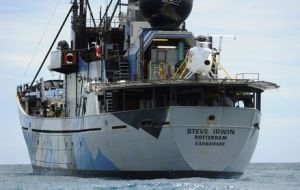 The Sea Shepherd flagship 'Steve Irwin' was shadowed by a Japanese security vessel as it escorted the badly damaged Brigitte Bardot to Fremantle for repairs, the anti-whaling group says.
Paul Watson, skipper of the 'Steve Irwin', said the crew of the Shonan Maru No 2, the Japanese whaling fleet's security ship that tailed the two vessels, were dressed as ninjas.
The Brigitte Bardot arrived in Fremantle Harbour Thursday after being damaged by a freak wave on December 29 in the Southern Ocean, about 2.500 km southwest of the West Australian port.
Captain Watson said the Shonan Maru No 2 had been waiting for the two ships as they made their way to Fremantle and tailed them for days.
"It is actually quite comical because when we flew over and documented what is on board, they are all dressed like ninjas; like black head-to-toe with masks on," he told reporters.
Australia's Greens senator Rachel Siewert said the federal government should be asking Japan why a whaling vessel had followed the Steve Irwin from the Southern Ocean into Fremantle.
An explanation should be sought from the Japanese ambassador, Senator Siewert said.
The Shonan Maru 2 was still sitting off the West Australian coast Friday.
"The Australian federal government needs to be asking or telling the Japanese government that that ship is not welcome in our waters and it should not be shadowing the Sea Shepherd," Senator Siewert said.
"It should be putting a boat into the water and sending a customs vessel down with the Sea Shepherd to monitor what the Japanese fleet is doing in our waters."