YPF finds oil south of Mendoza; source estimated in 40 billion barrels
Friday, January 6th 2012 - 06:52 UTC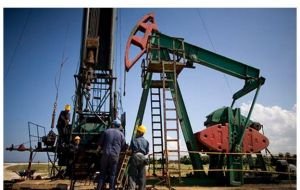 Energy company YPF announced the finding of conventional oil at the Cuenca Neuquina, in the Chachahuén bloc, at the Southern area of Mendoza province, that is equivalent to 40 million barrels.
The discovery is framed in the "2010-2014 Exploration Development Program" that YPF launched in 2009 aimed to apply an exploration plan and hydrocarbon production.
The initial campaign was based in the perforation of three oil wells of 1,000 to 1,500 metres.
The test drillings registered mineral layers of the Formación Rayoso with an average thickness of 10 metres.
The company stated that two oil wells tested were equivalent to 500 daily barrels. The third one, that has been recently drilled, is being tested.
"These resources are not considered proven reserves to date," the news wire quoted the company as saying in a statement to the Buenos Aires stock exchange.
The discovery was made by a joint venture in which YPF has a 70% stake.
YPF said the group planned to drill five more wells in the south-eastern area of the Chachahuen block