Two electronic companies increase investments in Tierra del Fuego
Sunday, January 8th 2012 - 05:20 UTC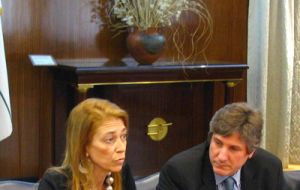 Two companies involved in electronics announced investments of 450 million Argentine Pesos (over 100 million dollars) in Tierra del Fuego for the production of electrical appliances.
The announcement was made official following the meeting of top officials from NewSan and Brightstar with Argentine acting President Amador Boudou and Industry Minister Debora Giorgi in Government House ( Casa Rosada).
NewSan will invest 383 million pesos (approx 90 million dollars) to fit out its five factories and to build a logistics centre as well as a factory in the province of Buenos Airres. It will also build three schools in Tierra del Fuego in exchange for receiving the former Aurora company factory.

Brightstar, meanwhile, will invest 15.6 million Pesos and will thus reach the production rate of 7.6 million mobile phones.

"In the last eight years there has been a change in paradigm in Argentina and the political project headed by Cristina Fernández considers what all the country needs to keep on growing and create more and more jobs" said Boudou who is replacing Cristina Fernandez for three weeks following thyroid surgery.

"The keys of economic development in the next few years will be consumption and investment", Boudou added, and stressed the necessity "of moving forward with imports substitution to create more jobs."

Minister Giorgi highlighted the "strong development of Tierra del Fuego as a technological pole, where electronic appliances with the highest standards of quality are built and where leading brands are investing."

"Our domestic market, preserved from unfair competition, makes companies invest and increase their production, because they know the will sell everything they manufacture in Argentina," Giorgi unederlined.

Acting president Boudou, Minister Giogid with representatives from the investors