Chinese company to purchase world's fourth largest uranium deposit in Namibia
Thursday, January 12th 2012 - 14:28 UTC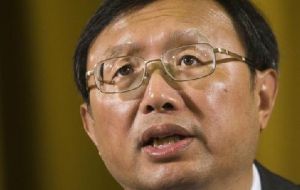 Namibia's competition commission said on Wednesday it had cleared a Chinese nuclear company to take over an Australian mining firm with rights to the world's fourth-largest uranium deposit.
The go-ahead would allow Taurus Mineral, a subsidiary of state-owned China Guangdong Nuclear Power Holding Company (CGNPC), to buy a controlling share in Australia-based Extract Resources, which holds exploration licenses for the massive Husab uranium deposit in west-central Namibia.
"The possible acquisition was approved and it will still be published in the government gazette" said Namibian Competition Commission's Ashley Tjipitua.
"Extract has been informed that the Namibian Competition Commission has approved without conditions the possible acquisition of control of Extract by Taurus," Extract said on its website.
The approval is a condition for CGNPC and the China-Africa Development Fund's 979-million dollars bid for Extract's largest shareholder, London-based Kalahari Minerals, which has a 42.7% stake in Extract. A successful takeover of Kalahari would trigger an 8.9-a-share offer for Extract, valuing the company at around 2.2 billion dollars.
The Kalahari bid must get approval from more than 50% of the London firm's shareholders. Extract said its independent directors would only make a recommendation on Taurus' proposed offer when a bid was actually made.
Extract holds the exploration rights for the Husab deposit through its wholly-owned Namibian subsidiary Swakop Uranium. The deposit has 280 million tonnes of uranium reserves and will cost an estimated 1.5 billion dollars to develop.
Last week, Chinese Foreign Minister Yang Jiechi visited Namibia and met with top officials to discuss trade, cooperation and mining, he told reporters, without giving further details.
Namibia is the world's fourth-largest uranium producer and currently has two mines in operation, Rio Tinto-controlled Rossing Uranium and Paladin Energy-owned Langer Heinrich Uranium.