Uruguay 2011 beef exports dropped 8% in volume, lowest since 2004
Thursday, January 12th 2012 - 14:12 UTC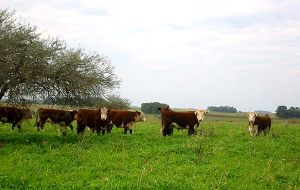 Uruguay beef exports last year dropped 8% in volume but soared 18% in value because of higher international prices and fewer cattle. However the volume was the lowest since 2004 and confirms a decreasing tendency since 2006, according to the latest figures released by the government.
Beef sales totalled 336.755 tons in 2011 compared to 366.225 tons in 2010. Cattle slaughtering dropped 8.7% from 2.2 million in 2010 to 2.01 million last year.
This is the lowest volume since 2004 with 373.000 tons. In 2006 there was a peak of 484.000 tons but since then volumes have consistently fallen, according to the Uruguayan government because of the 2007 and 2009 droughts.
However income soared 18% to 1.333 billion dollars boosted by higher international prices. Uruguay's main beef clients last year were Russia, the European Union, Nafta members (US, Canada and Mexico) and Mercosur members.
Last year Russia purchased 111.777 tons (down from 120.584 in 2010), but nevertheless paid it 318 million dollars compared to 282 million, because of better prices. The EU took 59.046 tons (69.358 tons in 2010) valued at 387 million dollars relative to the 326 million of 2010.
Nafta members increased purchases from 46.720 tons to 48.387 tons with income increasing from 118 million dollars to 151.7 million last year. Finally Mercosur associates demanded 34.470 tons of beef in 2011 (35.433 tons) while income jumped from 124.9 million to 160.3 million dollars.
The ranking has the EU first with 387 million dollars; Russia, 318m; UN, 120.8m; Israel, 105m; Brazil, 84.6m; Chile, 71.5m; Venezuela, 70m; China, 43 m and Canada, 30.7m.
Total meat sales which includes beef, lamb, pork, equine and chicken in 2011 totalled 1.652 billion dollars, up 18% in value from 2010.