Trade of illegal pesticides booming in Europe under control of organized crime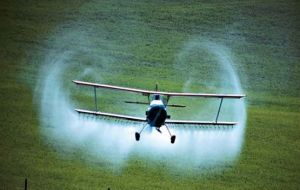 The trade of illegal and counterfeit pesticides is proliferating in Europe reports Europol. The exceptional 'low risk – high profit' margin, combined with the lack of harmonisation in legislation and implementation, make this a fast growing area of organised crime.
The use of illegal pesticides has been detected across Europe, and North East Europe in particular has been targeted by the criminal networks involved in this activity. More than 25% of the pesticides in circulation in some EU Member States are estimated to originate from the illegal pesticide market. Such illegal pesticides threaten the health of farmers and consumers and pose a risk to the natural environment.
Furthermore there is a risk that illegal pesticides can be used as precursors for home made explosives due to the lack of traceability.
The trade in illegal and counterfeit pesticides is organised by highly sophisticated criminal networks. Criminals have developed complex global supply chains and exploit legal companies to camouflage their activities. The global revenues associated with this crime are estimated to be billions of Euros a year.
The concerned Member States are considerably affected by the significant risks to crops, and the toxic substances the illegal pesticides contain pose severe threats to the environment and public health. For example, two multi-tonne shipments of illegal pesticides, intercepted in May 2011 in Eastern Europe, contained substances banned in the EU for their endocrine disruptive properties.
Europol and national experts have drawn up a series of recommendations fearing the network could expand to other continents. Among the recommendations is the development of a comprehensive picture of the existing legal framework governing the trade in pesticides in the EU and of the extent to which this illegal trade involves large organised crime groups.
Another issue is cross-border investigations (including controlled deliveries and financial investigations) that exploit intelligence from joint operations (e.g. during 'importing season': Jan/Feb) and enable the identification of High Value Targets through EU-level supply chain analysis (e.g. performing key roles in production, export/import, logistics and wholesale).
Finally the adoption of a comprehensive response to address the wide spectrum of health and environmental threats associated with illegal pesticides through increased cooperation of law enforcement, other government agencies, in particular pesticide regulatory authorities, and private sector partners (e.g. companies with a capability for analysing suspicious chemicals, as well as storing and destroying hazardous materials) and a study on improving the traceability of hazardous materials used in the illegal production of pesticides.