Falkland Islands: Cancellation of the visit of Cruise Vessel Start Princess
Saturday, January 14th 2012 - 15:08 UTC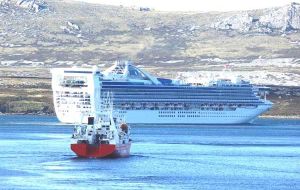 Due to a reported outbreak of norovirus on the cruise vessel Star Princess, following agreed protocols, the Chief Medical Officer took the difficult decision not to allow the vessel to land in the Falkland Islands as scheduled. The vessel had been due to arrive in Stanley at 8am on the 14th January.
The King Edward VII Memorial Hospital in Stanley were informed of the problem on the afternoon of the 13th of January, and communicated the decision that evening following consultation with both the ship's doctor and a consultant microbiologist in the UK.

This difficult decision was not been taken lightly, and was made in the wider interests of the public and tourism industry. Norovirus is highly infectious, and causes potentially severe sickness and diarrhoea. It is spread easily by direct contact, touching contaminated surfaces, and through inhalation. The virus has become a serious issue in hospitals and vessels around the world and can be very serious in the elderly and the very young. An outbreak in the Falkland Islands would put enormous pressure on our limited medical resources, and jeopardise other scheduled cruise visits.

The Falkland Islands Government wish those affected a speedy recovery and an enjoyable onward journey, and hope to be able to welcome you to our beautiful home and country in the future.

This is only the second occasion that a tour vessel has ever had to be turned away from the Falkland Islands, with over 100 cruise visits welcomed every year.

In consultation with the cruise operator and local agent, a post-­incident review is to take place.