Merrill Lynch appointed to find partners to develop Falklands' oil project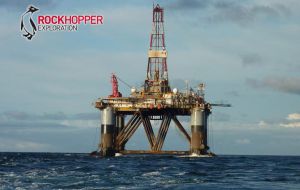 Rockhopper Exploration which recently discovered oil and gas in Falkland Islands waters has appointed Bank of America Merrill Lynch to lead the process of finding a partner for its 2 billion dollars oil project in the North Falkland basin, reports the London media.
Apparently Rockhopper has opened its data room on the successful Sea Lion project, allowing potential partners a closer look at the field properties. The process of farming out (or selling down) its stake in Sea Lion will help set a market price for the discovery, and by extension for Rockhopper.
Rockhopper's Sea Lion field, 120 kilometers north of the Falklands, is one of the largest discoveries made in the region so far, with recoverable reserves estimated at nearly 500m barrels of oil. The company, which has a market value of around £780m, now needs a co-investor to help shoulder the estimated 2 billion dollars cost of developing the prospect.
However any new partner will have to weigh up the political risk of entering an agreement in the Falklands which remain a serious dispute between Britain and Argentina, which continues to claim sovereignty over the Falklands/Malvinas Islands and surrounding maritime spaces.
The administration of President Cristina Fernandez has been very critical of the recent drilling round which began in 2010 and ended this month but is programmed to continue with a new oil rig scheduled to arrive in the coming weeks.
The Kirchner administrations have followed a policy of isolating the Falklands in what is rapidly turning into a blockade, and as such long defined by the government of the Falklands and recently by the Foreign Office.
Argentina not only ignored fisheries and oil agreements with the Falklands dating back to the nineties but also has told companies with interests on both sides of the Atlantic they have to choose one or the other, if not they will be sanctioned. Similarly it demands vessels sailing to or from the Falklands to report with the Argentine Coast Guard and lately has managed support from Unasur and Mercosur to bar Falklands flagged vessels from regional ports.
Last September and before the UN General Assembly Cristina Fernandez said Argentina was considering banning the only weekly commercial link between Malvinas and the continent (Punta Arenas in Chile). The Lan Chile aircraft, which once a month lands in Rio Gallegos, must cross Argentine air space.
All the pressure is geared to get the UK back to the discussions table on Falklands and other South Atlantic Islands sovereignty which Argentina claims. London has consistently said no to negotiations unless the people of the Falklands so decide, and this stance is based on the UN enshrined principle of self determination.
Nevertheless in spite of the threats and aggressive attitude oil exploration in Falklands' waters has continued and is supported by the UK. A second oil rig is on its way and will be drilling for Falkland Oil & Gas Ltd and Borders & Southern Petroleum.
However since the AIM listed exploration companies are small or relatively small in oil industry terms at some point they often seek to farm out their stakes in early-stage projects to bigger groups such is the case now with Rockhopper.
Last year Rockhopper held informal talks with Cairn Energy about entering the Sea Lion project, but did not result in a deal according to the London media. Apparently talks were also held with Premier Oil LC and Noble Energy Inc., and Korean and Indian oil companies are expected to show an interest.
Another option giving that debt finance is proving increasingly hard to come by, is going further and make an outright sale. In October, London-listed Dominium Petroleum, which focuses on east Africa, agreed a £118m takeover by its larger rival in the region, Ophir Energy. And last month shareholders of EnCore Oil, the Aim-quoted North Sea explorer, voted overwhelmingly to accept a £221m bid from Premier Oil.