Rockhopper shares soar as talks for a partner in Falklands' oil operation advance
Tuesday, January 17th 2012 - 06:54 UTC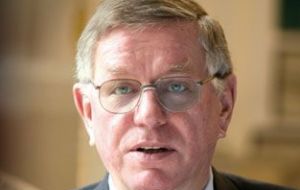 Rockhopper Exploration Plc climbed to an 11-month high in London trading after a report that Cairn Energy Plc is in talks with the only company to have made a potentially commercial oil find near the Falkland Islands.
Rockhopper rose 10% by the 4:30 p.m. market close to 303.75 pence, the highest since February. Desire Petroleum Plc, which owns acreage next to Rockhopper, climbed 4.4 percent
The Sunday Times newspaper reported over the weekend that Cairn is in talks with Rockhopper, without saying where it got the information. The Financial Times said on Monday that discussions last year didn't lead to a deal, though talks could resume in the next few weeks.
Rockhopper Chairman Pierre Jungels said last month the company has a range of options for the Sea Lion prospect and that it will open a data room to seek partners. The company needs about 2 billion dollars to develop the find off the Falklands.
Rockhopper executives told a conference last week that seven or eight companies were interested in bidding, according to investment bank Morgan Stanley.
A research note from the bank, which hosted the conference, also said the UK-based company could give up its lead role in the Sea Lion field it believes could have 1.3 billion barrels of oil in place.
"Rockhopper would be willing to relinquish operator-ship, if the farm-down interest was high enough," said the note.
The executives told the conference Rockhopper was giving would-be bidders access to its data because it needs money and expertise to fund the development in an area that is the subject of a territorial dispute between Britain and Argentina.
Analysts from Bank of America Merrill Lynch said Rockhopper was likely to see strong interest in the stake.
"The significant exploration upside potential that the acreage still offers could prove a strong 'pull factor' for bidders - particularly those with limited exploration news-flow," they said in a note Monday.
Falkland Oil and Gas (FOGL), another British oil explorer, said Friday that it was in talks with parties about taking a stake in its interests in the area.
However, Chief Executive Tim Bushell said any company, such as BP or Spain's Repsol, who have Argentine interests, would most likely not be able to partner with it.
Industry sources said the support of South American oil producers such as Brazil and Venezuela for Argentina's claims on the Malvinas Islands, means companies which have interests in those countries could also shy away from Falklands' players.
FOGL said it was in talks with North American and European independent oil firms, and analysts said companies such as Anadarko (APC.N), which plans to exit its Brazilian operations and has no Argentine interests, could make a bid.
"The potential return of US players to the area - Hess exited in 1998 - could significantly reduce the perceived political risk around the Islands," said Bank of America Merrill Lynch analysts about Rockhopper, noting that Britain's Cairn Energy (CNE.L), Premier Oil (PMO.L), and U.S.-based firm Noble Energy (NBL.N) are reported to be interested in the assets.
Oriel Securities analysts said they believed "significant upside" could be generated for Rockhopper through a deal with a partner.