Busy March for Rousseff: President Obama, Chancellor Merkel and BRICS summit
Wednesday, January 18th 2012 - 21:34 UTC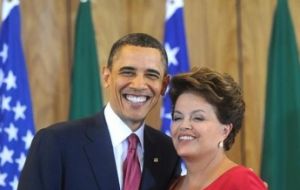 Brazilian president Dilma Rousseff will be meeting her US peer Barack Obma next March when she is also scheduled to hold talks with Germany's Chancellor Angela Merkel and attend a BRIC group summit.
According to Folha de Sao Paulo Ms Rousseff will be travelling next March to Washington although no certain date for the meeting with Obama has been announced by the Brazilian Executive Planalto Palace.
Some of the issues of the agenda to be considered were addressed by Foreign Affairs minister Antonio Patriota during a meeting with visiting US members of Congress.
Relations between Brazil and the US have been improving since Ms Rousseff took office in January 2011, following strong misunderstandings in 2010 when former president Lula da Silva tried with Turkey a different approach to the Iran issue which irritated the Obama administration.
Last March as part of a brief tour of Latin America, Obama visited Brazil, his first to the region.
Next March Rousseff will be travelling to Hanover to meet with Ms Merkel and at the end of that month will fly to New Delhi for the BRICS summit (Brazil, Russia, India, China and South Africa).
Rousseff's agenda includes a visit to Cuba on 31 January and on February first to Haiti, where Brazil is deeply involved with the UN peace forces, as the main contributor, as well as in the recovery efforts.
Mexico is also in Rousseff's agenda for the G20 group summit. Mexico currently holds the rotating chair of the group.
The Brazilian president will be hosting in Brasilia next 13 February Prime Minister Jyrki Katainen and Portugal's president Anibal Cavaco e Silva some time later.