Hague praises Brazil's global presence and reaffirms British policy towards the Falklands
Wednesday, January 18th 2012 - 21:02 UTC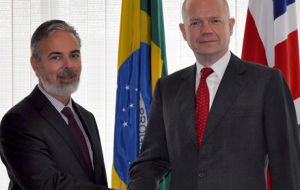 Britain's Foreign Secretary William Hague praised Brazil's growing economic and political power as he opened two days of talks with the country's leaders, and also assured that British policy on the Falkland Islands will not change despite pressure from Argentina.
Hague's visit comes a month after Argentina persuaded Mercosur associates to adhere to a resolution barring from the region's ports any ship flying the Falklands' flag. However Brazil, Uruguay and Chile indicated there are no impediments for vessels with the red ensign, and all three rejected the idea of a 'blockade' on the Falklands, as seems to be the ultimate objective of Argentina.
"The British outlook is well known ... and won't change," Hague told reporters after meeting Brazilian Foreign Minister Antonio Patriota. "We believe in the self determination of the people of the Falkland Islands. It is a matter of their rights; it is a matter of their human rights. That will continue to be our view".
Patriota said Brazil also wouldn't change its stance and would join its neighbour Argentina and other South American nations in turning away ships flying Falkland Island flags.
"Minister Hague knows that Brazil ... supports the sovereignty of Argentina over the Malvinas and we support the United Nations resolution that calls for discussion about the issue with Argentina," Patriota said.
The Falklands issues aside, Hague said he and Patriota had "searching and productive discussions" about rapid political changes in the Middle East, British support for Brazil to have a permanent seat on the U.N. Security Council, and ongoing concerns about Iran's nuclear program.
Hague's visit to Brazil, the first of a Foreign Secretary in six years, includes a stop in Rio de Janeiro, where he will deliver a speech and meet with top officials on Thursday.
In an opinion article published by Rio de Janeiro's O Globo newspaper this week, Hague said the fact that London will host the Olympic Games later this year and Rio de Janeiro in 2016 binds the two nations.
"Sport — from the Grand Prix to football — unites us. Brazilian football players are as well known in the UK as they are here," Hague wrote. "The games will provide the chance of a lifetime for host cities and countries to showcase our societies and to promote worldwide our most important values".
Brazil's economy is expected to surpass that of the United Kingdom as the world's sixth largest, showing "your country's formidable economic power and the opportunities for joint working that come with it as both our nations seek to grow our economies," Hague wrote.
Finally Hague said the UK wishes to forge a closer understanding with Brazil on foreign policy as fellow democracies with so many shared values and hopes this will lead to greater practical cooperation across all the issues that matter to both countries, "respecting the fact that we approach some matters from a different perspective, but we should always be able to discuss them in a spirit of friendship and respect as we have today".