Argentine government calls on unions and businesses to act with "responsibility"
Thursday, January 19th 2012 - 03:52 UTC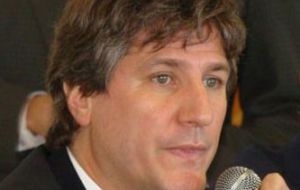 Argentine acting President, Vice-President Amado Boudou called on businessmen and union workers to act with "responsibility" in direct reference to the upcoming round of wage negotiations that will be held later this year and unions have anticipated will have to be referred to workers "pocket" inflation.

"Union leaders and companies need to be rational in order to protect growth and the economic development model, and so wage agreements can be sustainable over time" said Boudou.

"Everyone needs to step up to their sector's responsibilities. This is key for the business sector and also for the worker sectors, in order for growth to be sustained and so that the levels of consumption continue to rise for our population" Boudou stated.

"Not so little, not so much" answered the acting president when he was asked about the percentage of the wage hike thus avoiding giving some indication of the range of percentages the government was thinking for the 2012 salaries' round of negotiations.

When asked about the head of the organized labour CGT umbrella union boss, Hugo Moyano being "on another frequency" to the National Government, Boudou indicated "I don't see it that way" but avoided further comments on the relationship.

However the opposition CTA Argentine Workers Central was more explicit saying that whilst most of unions are aiming for 25% wage hikes, "the increase for 2012 stands at no less than 30%".

"Hike talks can't be below 30% of wage increase, in order to sustain the worker's purchasing power," CTA Secretary Ricardo Peidro stated.

The union leader also said that the hike talks must be based on "salary re-composition regarding inflation, thus the grounds of the increase must be the worker's cost of living."

"Each private and industrial sector must take into account the revenue sharing of workers, not only to recompose purchasing power, but to improve the quality of life," he added.

Peidro concluded by saying that several discussions regarding "improving health and working conditions" will also have to be held.

The salaries round negotiation is not expected to be easy not only because the Argentine organized labour movement is divided and in the largest group, the CGT Hugo Moyano faces election and his leadership is questioned, but because it exposes the underlying notorious difference between the official Indec inflation and the real index, according to private estimates and accepted as the most reliable.

In effect while for President Cristina Fernandez administration Stats Office, Indec, consumer inflation in 2011 was 9.5%, the average estimate from private sector consultants and some independent provinces plus the so called Congressional index, reached a floor of 22.8%.