Falklands/Malvinas bilateral issue, but Islands are covered by EU as British OT
Friday, January 20th 2012 - 14:45 UTC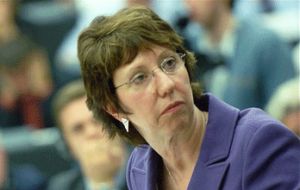 The European Union considers that the new tense situation between Argentina and the UK over the Falklands/Malvinas Islands is a "bilateral issue", however the Falklands figure under EU treaties as a British Overseas Territory, said the EU Foreign Affairs Representative spokesperson.

"This is fundamentally a bilateral issue between the UK and Argentina", said Michael Mann spokesperson for Catherine Ashton, High Representative of the EU for Foreign Affairs and Security Policy.

However he also pointed out that based on the EU treaties the Falkland Islands are included as a territory dependent from one of EU member states.

"The situation is quite clear: the territories that include the Falkland Islands are covered by the Treaty, they depend from the member states", added Mann.

However the spokesperson did not provide further details on the situation during the daily round of questions at the European Commission.

The Argentina/UK situation over the Falklands has again escalated following the controversy about the Falklands' flagged vessels barred from Mercosur ports and statements from PM David Cameron describing Argentina's attitude towards the Islanders as "colonialism", which triggered an immediate reaction from Buenos Aires.

Furthermore Cameron revealed to Parliament he had recently held a meeting with the National Security Council devoted entirely to the situation in the South Atlantic territories with the purpose of making sure "defences and everything else are in order".

Likewise he insisted that "the absolutely vital point is that we are clear that the future of the Falkland Islands is a matter for the people themselves. As long as they want to remain part of the United Kingdom and be British, they should be able to do so".

The London media later revealed that Cameron was warned by British intelligence that Argentina was plotting a mock invasion by sending Argentine fishermen to land on the Falklands and South Georgia to plant an Argentine flag.

This is a very sensitive year since next April 2 is the 30th anniversary of the Argentine military invasion of the Falklands and their recovery 74 days later (June 14) by a multi-theatre task force sent by then PM Margaret Thatcher.