Argentina is "not intimidating Falkland Islanders"; claiming sovereignty right
Sunday, January 22nd 2012 - 04:57 UTC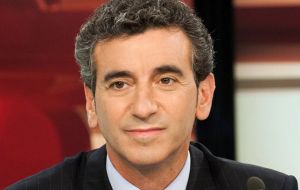 Argentine Interior Minister Florencio Randazzo, quickly hit back at the statements made by the British government, after Foreign Secretary William Hague said that Argentina "should stop their intimidation attempts" against the Falkland Islanders.

"Argentina is not intimidating anyone, only reclaiming an inalienable right to the sovereignty of the Malvinas" stated Randazzo on Saturday.

"Argentina is not intimidating anyone, only reclaiming an inalienable right to the sovereignty of the Malvinas and that is why we continue to insist through pacific channels and while going down this route, we are full of satisfaction at the support being built by the rest of the world," Randazzo said.

Foreign Secretary in a piece published on Saturday in The Times stated that if Argentina is genuinely interested in progress in the South Atlantic, "it should stop these attempts to intimidate a civilian population" and should agree to discuss how, "as democracies, the Falklands, Britain and Argentina can work together in the South Atlantic neighbourhood in our common interest".

Hague added that while the UK are happy to talk, recent Argentine governments have taken a less constructive approach: they walked away from the South Atlantic Fisheries Commission, thus risking serious damage to fish stocks in the South Atlantic; they have withdrawn from a 1995 agreement to co-operate on oil exploration and, in violation of the principles of global free trade, targets companies that operate in Falklands' waters.

"Instead of working for a mutually beneficial solution for commercial air links, Argentina has banned charter flights and prevented most scheduled air services. At sea, Argentina has sought to impose restrictions on Falklands' vessels travelling through the international Strait of Magellan or calling on other South American ports" underlined Hague in the column.

The Argentine Interior Minister sustained that, following the statements made by David Cameron last week, who accused Argentina of maintaining a 'colonialist stance', it remained clear that "it was just another lie made by the British government."

Furthermore he insisted that the United States' stance on the situation announced on Friday must be reiterated. The State Department spokesperson said that the Falklands/Malvinas situation is a bilateral issue which calls for both sides to resolve differences through normal diplomatic dialogue.

Furthermore pointed out Randazzo the US said "they recognize de facto United Kingdom administration of the Islands but take no position regarding sovereignty, and 'de facto' is not 'de jure'".