Automatic registration in Chile incorporates 4.5 million new, mostly young voters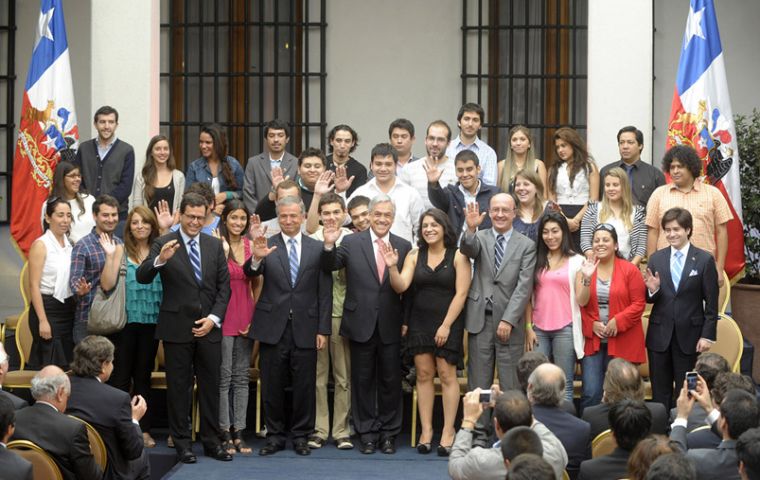 With President Sebastián Piñera signature at a ceremony in the Presidential Palace, Chile joined a community of nations in which all eligible voters are automatically registered to vote.
"This reform is the heart of this administration," Secretary General Cristián Larroulet said while introducing President Piñera. "This is a step in the right direction for Chile, but not yet the answer to all our problems."
The new voting law will make registration automatic and voting itself voluntary. It is projected that over 4.5 million new voters will be added to the nation's electoral registry, with most of the additions under the age of 30.
"This is a great and historic day for Chile," President Piñera said before signing the bill. "But we as a country still have much more to do."
President Piñera went on to note that although Chile's democracy is "recognized internationally," important democratic reforms like this one are still underway.
The new law was passed by the Senate in December and approved by the Constitutional Court last week, the final step before Piñera could sign it into law. The reform will be in place for the coming municipal elections in October.
Previously, the law in Chile had been that registering to vote was voluntary, but once registered, it was mandatory to vote. If a registered voter did not vote, they were subject to a fine up to 210 dollars.
The current voting reform was initiated under the Bachelet administration in 2009, and was spurred when more registered voters began to die every year than new people were registering. Less than 10% of those registered to vote were under 30.
Piñera noted that Chile is still in the process of fully reintegrating itself into the democratic process after the Pinochet dictatorship (1973-1990).
Although the majority of the newly added voters will be young, Piñera went on to say that there is no guarantee they will cast a ballot. Yet precisely the youth vote in Chile will be the nation's best defence for preserving democracy, the president said, and they will have the power to significantly affect elections.
"We will now have a younger democracy with more participation," Piñera said. "A democracy that will be stronger; I want to appeal to our youth, who have been distant from politics to exercise their right to have a voice."
By Stephen Shea – The Santiago Times