Alicia Castro is Argentina's ambassador to London; last posting was Venezuela
Friday, January 27th 2012 - 02:28 UTC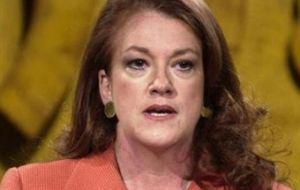 Argentine President Cristina Fernández appointed Alicia Castro, 62, as ambassador to the United Kingdom, and the British government has accepted her credentials, the Foreign Ministry announced on Thursday.
Ambassador Alicia Castro known for her strong nationalist stance, previously worked as an Argentine ambassador to the Bolivarian Republic of Venezuela from 2006 until December 2011.
Originally from the union sector, she has been involved in politics most of her life and worked extensively as national lawmaker for the Buenos Aires province.
"In this occasion, the Argentine Government would like to call the British Government once more to return to dialogue in compliance with the United Nation's resolution on the matter of the Malvinas Islands' sovereignty," the Ministry's statement read.
The London post was vacant since 2008 when the last ambassador Federico Mirré retired and was not replaced as a way of expressing the Argentine government's disappointment with the UK over the Falklands/Malvinas issue.
These last few weeks have seen an escalade of exchanges between Buenos Aires, London and Stanley on the South Atlantic Islands issue, the latest of which from President Cristina Fernandez presentation on Wednesday on her return to office having completed her medical leave.
The Argentine president said her government will continue to insist with the same current policy of claiming the Malvinas in all world forums but with no "intemperate shouting or xenophobe gestures". However she made time for ironic comments on accusations "calling us colonialists and the bad guys, the violent guys of this picture".
Last December 21st Cristina Fernandez had anticipated that "very soon we will have an Argentine ambassador in Great Britain, because thirty years (since the 1982 war) is a long time".
Ms Castro a former air stewardess was chairperson of the Argentine Association of Air Stewards and member of the Lower House from 1997 to 2005. In 2006 she was named by former president Nestor Kirchner ambassador in Venezuela, a post considered at the time crucial given the financial assistance from the Hugo Chavez government and political coincidences with the populist Caribbean leader.
While a member of Congress she's remembered for an incident back in May 2002 when in the midst of a heated debate on bankruptcies and foreclosures she walked up to the desk of the president of the Lower House and planted a US flag.
"If the Argentine congress is going to limit itself to being the IMF notary, I suggest you act with honesty: bring down the national flag and continue the debate under the US flag".