Drought in Argentina and Brazil cuts significantly corn crops' volumes
Saturday, January 28th 2012 - 07:13 UTC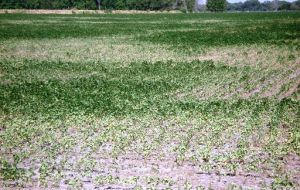 Corn advanced heading for the biggest weekly gain in five as concerns that a renewed heat wave in Argentina and south Brazil may damage crops boosted demand for US grain. Soybeans were little changed.
The weather pattern known as La Niña has brought hot, dry conditions to Argentina, Brazil, Uruguay, Paraguay and Mexico, scorching recently planted crops. Temperatures will exceed 40 degrees Celsius in some of Argentina's corn-growing areas through Feb. 2, the Buenos Aires Cereals Exchange said on Thursday. Rain will be scarce in most areas, said climatologist Eduardo Sierra.
Argentina's corn harvest may be curbed to 21.4 million metric tons in the year starting March, from a record 23 million tons a year earlier, Liliana Balbi, an economist at the United Nations Food & Agriculture Organization, said Jan. 18.
Corn growers in Brazil, the world's third-largest producer, will harvest less than previously forecast after a 13-week drought cut output in the country's top growing region.
Brazil's 2011-2012 summer corn forecast was lowered 4.3% to 34.88 million metric tons from a December estimate of 36.44 million tons, crop-forecasting firm AgRural Commodities Agricolas said Friday in an e-mail. That compares with last year's 35.93 million tons.
Output in the Brazilian southern states of Rio Grande do Sul, Santa Catarina and Parana was reduced 13% to 12.86 million tons from a previous estimate as rain didn't help recover losses from prolonged dry weather Curitiba, Brazil- based AgRural said.
Brazil's South is the country's main producing region for summer corn, which accounts for about 62% of the country's output. Brazil, South America's largest economy is expected to produce 59.2 million tons of corn, the Agriculture Ministry said Jan. 10.
The summer crop harvest runs from January through May. The US and Argentina are the first and second-largest exporters of corn.