Fitch downgrades Italy and Spain ratings; Milan police raid agencies offices
Saturday, January 28th 2012 - 10:11 UTC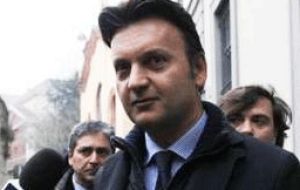 The credit ratings of Italy, Spain and three other Euro-area countries were cut by Fitch Ratings, which said the five nations lack financing flexibility in the face of the regional debt crisis.
Italy, the Euro area's third-largest economy, was cut two levels to A- from A+. The rating on Spain was also lowered two notches, to A from AA-. Ratings on Belgium, Slovenia and Cyprus were also reduced, while Ireland's rating was maintained.
The downgrades, flagged a month ago by Fitch, come as Greece negotiates with creditors on how to avoid a default and other Euro nations struggle to bolster the region's defences against contagion should those talks fail. While sovereign-bond yields have fallen in Italy, Spain in recent weeks as the European Central Bank added liquidity, the countries downgraded still lack financial flexibility, Fitch said.
"The divergence in monetary and credit conditions across the Euro zone and near-term economic outlook highlight the greater vulnerability" these nations face in the event of financing shocks, Fitch said. "These sovereigns do not, in Fitch's view, accrue the full benefits of the Euro reserve- currency status."
Belgium's rating was cut to AA from AA+, while that of Cyprus was pared to BBB- from BBB. Slovenia was downgraded to A from AA-. Ireland's long-term rating was maintained at BBB+.
All the countries were removed from "ratings watch negative," though they retain a "negative outlook," which implies the possibility of a downgrade within two years, according to Fitch.
Earlier in the week Italian police seized documents at Fitch's Milan offices as the rating agency was drawn into an investigation of alleged market manipulation already involving its two bigger rivals Standard & Poor's and Moody's.
Financial police seized documents and emails at Fitch's offices, an investigative source said, less than a week after a similar operation at S&P in Milan. The small town of Trani prosecutor Michele Ruggiero, who is leading the investigation and was in Milan for the police operation, declined to comment when asked whether any documents had been seized.
An investigative source said that, after placing S&P and Moody's under investigation last year, the prosecutors had extended their probe to Fitch for alleged market manipulation and abuse of privileged information.
European policymakers struggling to contain a debt crisis have grown increasingly critical of rating agencies, saying they have been too quick to downgrade indebted EU states despite bailouts and austerity programs. US authorities also reacted angrily when S&P stripped the United States of its cherished triple-A rating last August.
The Trani prosecutors began their investigation last year, alleging that reports by Standard & Poor's and Moody's on Italy and its banking system provoked sharp losses on the Milan stock market.
The probe was extended to S&P decision to downgrade Italy earlier this month, and now to Fitch's. S&P Milan offices were searched on January 19 and visited again by prosecutor Ruggiero this week.
The probe in Trani, a small town in southern Italy, was opened after a complaint by two consumer groups over the market impact of S&P and Moody's reports about Italy.