Brazilian beef exports declined 14% in 2011 to 820.239 tons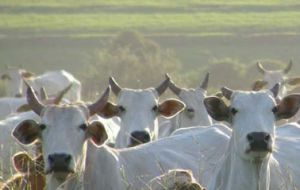 Brazilian beef exports declined 14% in 2011, to 820.239 tonnes swt, establishing it as the world's third largest beef exporter behind Australia and the US (Global Trade Atlas).
Contributing to the year-on-year decline in exports was constrained beef production, along with robust domestic beef demand.
The Middle East was the largest region for Brazilian beef shipments in 2011, with Iran (130.649 tonnes swt), Egypt (96.937 tonnes swt), Saudi Arabia (27.951 tonnes swt) and Israel (15.937 tonnes swt) all taking substantial volumes.
While Russia also accounted for a significant proportion of Brazilian exports, shipments for the year declined 20% year-on-year, to 228.822 tons swt. The decline in Brazilian beef shipments to Russia in recent years has been due to several factors; including the emergence of the Middle East, expanding domestic consumption, falling beef production in Brazil and several market access issues.
The latest forecast from the United States Department of Agriculture (USDA) predicts a 2% year-on-year increase in Brazilian beef and veal production in 2012. Most of the additional production is expected to be consumed in the expanding domestic market, fuelled by rising incomes and a growing middle class. (Meat Trade News)