CFK warns corporations have "made a lot of money": don't forget workers' share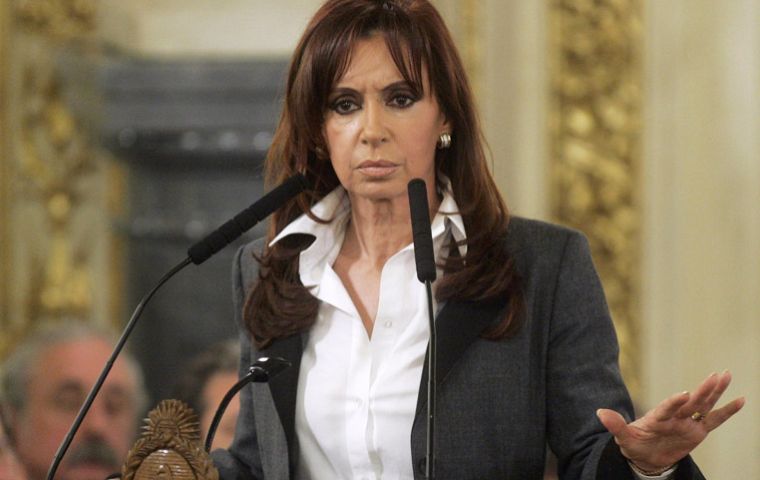 Argentine President Cristina Fernández ruled out that the Government is planning to set a ceiling on this year's collective bargaining and said that unions must "carry on with their salary negotiations freely by taking corporate profit into account." She announced, however, the creation of a committee in order to follow them closely.
Facing a possible increase in the tensions arisen during this year's salary negotiations, the Cristina Fernandez assured that "everyone will be able to carry on with their salary negotiations freely."
"Some are intent on turning us into something we're not. They say the Government is going to decide how much workers will make. I want you all to know that everyone will be able to negotiate freely," she said on a live televised speech from the Government House.
However, the President announced that she would create a de facto committee, with Industry Minister Débora Giorgi as president, who along with Deputy Economy Minister Axel Kiciloff, will analyze each sector's productivity and act as a referee when talks become stagnated.
"This committee will measure the increase in productivity and employment sector by sector. So when both sides get stuck in negotiations, we will have the information necessary to know whether salary demands will affect competitiveness or if they are above profit levels," she said.
In this context, the President reminded business leaders that "they have made a lot of money in the last few years, like never before" and reminded unionists of the need to have a profit margin in every sector when they presented their salary demands.
"We want this money to be invested, to sustain economic activity and have a fair distribution of income," she said, warning both union and business leaders not to overreach. The commission will study executive salaries and examine whether the gap between their income and their rank-and-file employees has become too wide, she said.
"Strange things are showing up in many large companies: executive salaries of 2 to 10 million pesos (461,000 to 2.3 million dollars). I don't know what these businesses are doing or what profits they're making. We're going to thoroughly study this issue."
Argentina is entering an economic cycle, she stressed, "that demands a great deal of responsibility on the part of businesses, which have made a lot of money, perhaps more than ever before."
The Argentine president made the statements in a moment in which both organized labour bodies, the CGT and the CTA, are claiming for an absence of roof or ceiling in this year's collective bargaining.
The government had originally suggested a roof of 18% for the salary round of negotiations. However strong reactions from the unions, particularly from the CGT Hugo Moyano, who said that workers will sit to talk about salary increases based on "supermarket prices" (Argentine inflation according to Congress and private estimates ranges 23% to 25%).
Average salaries in Argentina rose 29.5% last year, while revenues kept pace at 30%, the government announced. The numbers are more than triple the official annual inflation of 9.5%, but more closely match what private analysts say is the true rate of price increases.
During her televised speech President Cristina Fernández announced a 17.62% hike for pensioners after March. She reported that the minimum pension will go from 1,434 to 1,686 Pesos (330 and 390 US dollars approximately) and assured that Argentina is the country "with the largest pensions system" in the world.
She indicated that almost seven million people are registered as pensioners in the country.