Europe's largest bank profits boosted by its operations in Latin America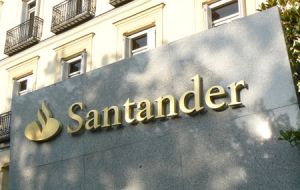 Spain's Banco Santander said that 2011 net profits reveal the growing importance of its Latin America operations which contributed with 51% of the bulk. Last year net profits totalled 5.4 billion Euros, down from 8.2 billion Euros in 2010.
The growing importance of Latin America was evident in the bank's loan book during for 2011. Total loans during the year were up 4% as Banco Santander SA boosted business in Latin America that helped buffer decreasing European operations.
Europe's largest bank by market capitalization said this week that net profits for the fourth quarter of the year ended in December fell to 47 million Euros from 2.1 billion Euros in the same period a year earlier.
The 98% plunge in the fourth quarter was causes by a 1.8 billion Euros charge to clean up bad real estate loans caused by the Spanish property crash. Without the provision, the bank said it would have had profit of euro1.7 billion in the fourth quarter.
Spain's banks are under heavy pressure from the government to disclose additional losses on overvalued real estate including land and apartment buildings in their holdings.
The country is mired in an economic morass and has the highest unemployment rate in the whole 17-nation Euro zone, largely because of a big construction sector crash.
A more detailed look at the quarterly earnings figures showed that the bank's revenue rose modestly to 11 billion Euros from 10.6 billion Euros a year earlier.