US court rules 17 tons of 19th century rescued silver coins must be returned to Spain
Thursday, February 2nd 2012 - 22:20 UTC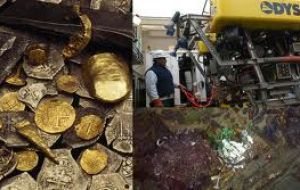 A US federal judge has ruled against Odyssey Marine Exploration in its legal row with Spain over 17 tons of silver coins recovered from a sunken 19th century Spanish galleon.
Florida-based Odyssey found the treasure off the Portuguese coast in 2007 and flew it to the US from Gibraltar, sparking controversy and a convoluted legal challenge that is still working its way through the US courts.
Spain said the wreck of the Nuestra Señora de las Mercedes was part of its national heritage and claimed the coins, accusing Odyssey of plundering the site.
But Odyssey has always defended its work as archaeologically sound and said the identity of the wreck could not be definitively confirmed. The company lost early rounds in court and was last year ordered to give the treasure to the Spanish government.
Odyssey applied to postpone that order until the U.S. Supreme Court could consider a separate application for permission to appeal. But in an order Tuesday, a US circuit court judge denied the company's motion for the stay.
In practice it means Odyssey will have to return the coins within 10 days, even though the Supreme Court has yet to decide on the appeal application. The new was reported triumphantly across much of Spain's media.
Spanish vice president Soraya Sáenz de Santamaria also welcomed the court's ruling and said arrangements were already being put in place to return the coins to Spain.
"It is a treasure from our history and from our past and it forms part of our heritage," she said. Some reports suggested the Spanish government already had two Hercules aircraft ready to fly to the US to collect the treasure.
Odyssey had said in court filings that denial of its stay might mean Spain will keep the treasure forever. Spain's position is that it is not subject to the jurisdiction of the U.S. courts.
So "it is certainly reasonable to assume that should the cargo recovered by Odyssey be transferred to Spain, it will never be returned to the Odyssey or to the United States for proper adjudication of claims" the exploration company wrote in court documents requesting the stay.
But a company spokesman played down the development and said Odyssey was still looking at its options.