Chile supports Malvinas claim but underlines 'special relation' with the UK
Monday, February 6th 2012 - 18:45 UTC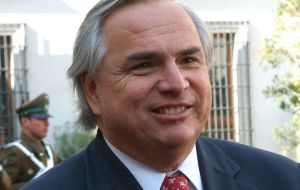 "Chile's support to Argentina's claim over the Malvinas Islands is a state policy for our country" said Chilean Executive secretary Andres Chadwick, but it does not mean any impediment to that "very special relation we have with the UK".

"There should be no impediment or damage to our very special relations and excellent friendship we have with England", said Chadwick in a brief interview with a Santiago radio station.

Further more, "if the Foreign Secretary wishes to visit Chile, as has been announced by the media, we will very pleased to receive him, welcome him and Chile will listen very carefully to all his reasons (in the dispute); Chile is not against anybody", underlined the most powerful man in the Chilean Executive after President Sebastian Piñera.

Chadwick added that Chile hopes the conflict can find a solution through a constructive dialogue and that it does not escalate since "we are not looking at a war-kind of situation o anything like that. We hope all this is managed along strict diplomatic discussions, negotiations, dialogue between both countries, because Chile as a neighbouring country, and very good friend of the UK, wants to collaborate in that sense".

The Chilean Executive official statements follow on information from Argentina that President Cristina Fernandez is planning to visit Chile in the near future as part of her offensive to recover the Falklands/Malvinas Islands.

Cristina Fernandez was scheduled to visit Chile at the end of January, early February but the event had to be cancelled because of the thyroidectomy she underwent early last month following on an original diagnosis of cancerous nodules.

At the time there was speculation that the Argentine president would press of her peer Piñera on the Lan Chile commercial link between Punta Arenas, extreme south of Chile and the Falklands, as she had anticipated before the UN General Assembly last September.

The weekly flight is the only scheduled link between the Falklands and the South American continent, and not only is useful for the Islanders but also vital for the 300 Chileans that work in the Islands and virtually the only way for the Argentine veterans and next of kin to visit the Argentine Memorial at Darwin since the Lan flight one a month calls at Rio Gallegos.