Surinam and Santa Lucia apply to join President Chavez ALBA group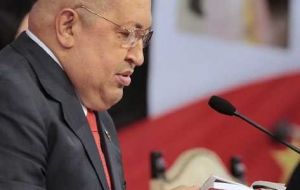 Surinam and the Caribbean island of Santa Lucia are in the process of becoming full members of the Bolivarian Alternative for the Peoples of America, ALBA group, while Haiti has been nominated "standing invited member".
ALBA, brainchild of Venezuelan president Hugo Chavez and Cuba held last weekend its XI summit in Caracas where it was also decided to emphasize the economic space by creating an Economic policy commission and a standing Secretariat.
"This is a very important step to consolidate ALBA both politically and economically with the creation of the standing secretariat", said President Chavez, host of the summit.
The standing secretariat will be located in Caracas and Venezuela will name the person to head it while the rest of members agreed to send a representative.
"We also decided to create a political-social commission and it will be the job of Cuba to fill the post of coordinator of those policies", added Chavez.
During the weekend meeting which was attended by Cuba's Raul Castro, Bolivia's Evo Morales, Nicaragua's Daniel Ortega, Ecuador's Rafael Correa (and later by his Foreign Affairs minister Ricardo Patiño), Surinam's Dese Bouterese as well a leaders from Caribbean islands, the implementation of a new compensation system for regional trade and development was also considered.
The Unitary System of Regional Compensation, SUCRE, which has been created as an accountancy unit, with a 1 to 1 US dollar value, has been in the experimental stage since 2010.
Another initiative is the creation of an ALBA development bank with contributions from member states, and for which Chavez committed 300 million dollars
On Sunday a resolution specifically approving the incorporation of Santa Lucia and Surinam as well as Haiti as a permanent guest member, was unanimously approved.
Haitian president Michel Martelly also attended the meeting and returned to Port au Prince with promises of infrastructure, energy and education aid for the seism devastated country.
Finally is was agreed to hold the next summit at the end of 2012 in Dominica, and a previous ministerial meeting in Havana to decide the group's position concerning the coming summit of the Americas.
The prevailing consensus is that if Cuba is not invited to the Colombia summit, the ALBA group will not participate.
Regarding foreign policy there was explicit condemnation of the "systematic interference and destabilization policy" in Syria with the purpose of imposing by force on the Syrian people "a change of government".
There was also support for Argentina's claim over Falklands/Malvinas sovereignty and a proposal to abandon the inter-American reciprocal assistance treaty TIAR.
Argentine Foreign Affairs minister Hector Timerman was also a special guest of the meeting to make the case for Argentina's South Atlantic islands claims.
ALBA is made up of Venezuela, Cuba, Ecuador, Bolivia, Nicaragua, Antigua and Barbuda, Dominica and Saint Vincent and Grenadines.