China growth could drop by half in 2012 because of the Euro crisis warns IMF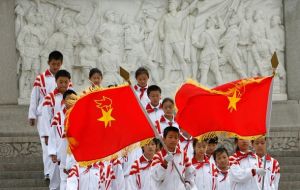 Economic growth in China could drop by half this year in the event of a sharp recession in Europe, the IMF predicted on Monday in a report that underscored the importance of global trade to the world's second largest economy.
"The risks to China from Europe are both large and tangible," and "China would be highly exposed through trade linkages," said the report, which was published by the IMF resident representative office in China.
The IMF forecast for China's annual growth in 2012 has already been lowered to 8.2% from a previous forecast of 9% but if Europe's performance is worse than expected then China's export-driven economy would be badly hit.
"In the absence of a domestic policy response, China's growth could decline by as much as 4 percentage points relative to the baseline projections [of 8.2%] leading to broad-based consumer and asset price deflation," the report warned.
That would entail a growth rate far below the level the ruling Communist Party has identified as necessary to create enough jobs for it to maintain its grip on power.
But Beijing has been loathe to run large government deficits in past years and this means the government could probably afford a relatively large stimulus in the event of such a downturn.
The IMF recommended that China respond with a fiscal package of around 3% of GDP to be spent on reducing taxes, subsidizing purchases of big-ticket consumer items, improving social services and ramping up the country's already enormous social housing plan.
The fund reckons such a plan would allow China to still hit a growth rate of around 7.2% this year, even if Europe were to slip into a deep recession.
In November 2008, in the midst of the global financial crisis, China unveiled a 4 trillion Yuan stimulus package to counter the effects of collapsing trade and investment.
While economists estimate this massive response boosted domestic growth by at least 6 percentage points, the country's overall growth rate still fell by 5 percentage points from its pre-crisis level.
One major problem with that previous stimulus plan was how it was structured and implemented -- Beijing effectively ordered the country's state-owned banks to lend the bulk of the stimulus directly to state enterprises and local governments.
On Monday, the IMF recommended that any new stimulus should pass through the central government's budget rather than relying on public infrastructure paid for by bank loans and local government contracts.
"China still has a long way to go to digest the side effects of the surge of credit unleashed in the wake of the global crisis," the report said. "Residual concerns about credit quality and bank balance sheets from the 2009-2010 stimulus would mean that any monetary response to an unfolding European crisis should be limited.